Cloud
eRacks/PETASCALE - Your enterprise level cloud storage solution!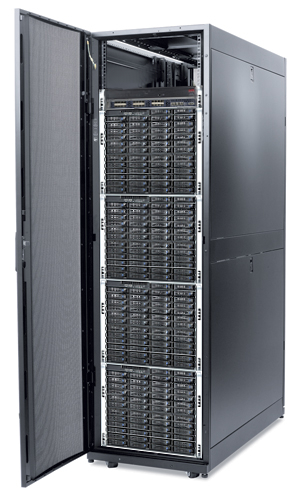 eRacks Open Source Systems is proud to announce its eracks/PETASCALE system. At over 800TB per rack, just two or more of these allow you to scale well into the Petabyte range, and provides a formidable distributed storage and archiving solution for today's cloud-based market.
Used as a Network Access Storage solution for large virtualization environments, it allows users to never worry about the stability and reliability of their data. With the RAID and UPS redundancy options, this allows most businesses to not worry about their data security or data loss. Complete security packages are also available.
Used in a private, enterprise environment, staff and employees can be reassured that their data is secure. The Cloud never looked so good, nor so accessible.
Networking Software such as Samba is installed on request, as well as NFS, Novell, Apple and other protocol configurations are available.
This model is updated with options for single and dual or quad CPU configurations. Processors options include AMDs Interlagos or Bulldozer, as well as the Intel Ivy and Sany Bridge Xeon CPU's. Memory can range from 1-512GB per system, allowing heavy caching.
At full capacity, this system can now house 200 terabytes per system, making this solution 1.6 Petabytes (1,600 Gigabytes) in total storage capacity between 2 fully configured racks.
Utilizing the Apache Hadoop software library, the eRacks/PETASCALE system is built atop a framework that allows for the distributed processing of large data sets across clusters of computers using a simple programming model.
It is designed to scale up from single servers to thousands of machines, each offering local computation and storage. Rather than rely on solely the eracks/PETASCALE hardware to deliver high-avaibility, the library itself is designed to detect and handle failures at the application layer, so delivering a highly available service on top of a cluster of computers, each of which may be prone to failures.
The eRacks/PETASCALE can be custom configured for growth, with as little as 50TB to a 2PB+. eRacks builds to your specs, interconnectivity with 1/10/20/40/100GbE or even external SAS is available. The options also include UPS units, Switches, preassembled and configured racks, application servers and much more. Please Call or Email for more options. eRacks is a certified Linux/BSD partner and also does Windows on request. Consulting on software and hardware is also available.
Contact eRacks for a more info or a quote, prices vary depending on configuration, eRacks is designed to work with your budget to get the best solution for your needs. eRacks is available at 714-532-5322 or Info@eracks.com