Direct Attached Storage Servers (JBOD)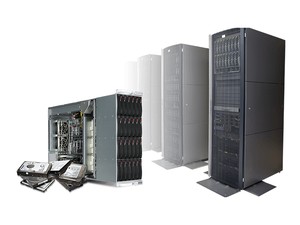 Our Rackmount Direct Attached Storage (JBOD) or The DAS (JBOD) Systems cover a whole series of product that supports Large form factor (LFF) thus, 3.5-inch Hard Drives and Small form Factor (SFF) namely 2.5-inch Solid State Drives & 2.5-inch Hard Drives. With different Drive capacity we offer suitable Chassis height choice from 2U, 3U to 4U. All of our DAS (JBOD) systems support Latest SAS3 (12Gb/s) drives as well as SATA3 (6Gb/s) Hard Drives to satisfy the need of high read and write speed between the server node and JBOD.
The backplane type variety, with both single and dual expander that equipped on the product provide two different type of demand: Provide software define storage certified system as major storage component for high availability application; or meet the need of continuous data growth, reliability and energy efficiency. eRacks Systems' DAS (JBOD) storage server series provide a "start small grow big" solution for expand the data capacity according to Enterprise's requirements.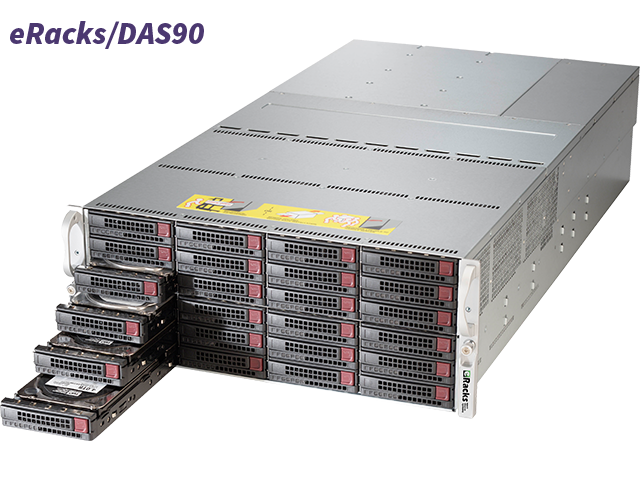 Our advanced DAS (JBOD) Systems provides easy management via IPMI port with SNMP for remote system power on/off and system monitoring. For System cooling chasses supported different suitable hot-swap cooling fans are included. For data protection and RAID management suitable & optional SAS3/SATA3 PCIe controller card is provided. The whole series feature with supported Titanium or Platinum level high efficiency power supplies.
By adding the numeric Number at the end of each system, eRacks Systems made the distinguishing easier. While the number of each DAS system's name stands for the total drive capacity of the relevant system. From the available systems bellow choose yours according to your requirements within the best and affordable price.
Note: These Das systems support SSDs on the 3.5-inch hot-swappable bays with additional hardware by installing Adaptor HDD carrier 2.5" HDD in 3.5" HDD tray. If you need ALL-Flash DAS systems please contact us at info@eracks.com for your requirements.
---