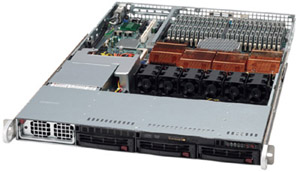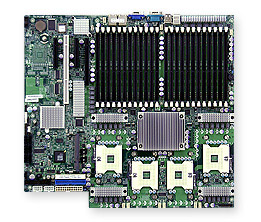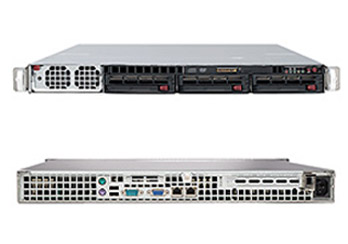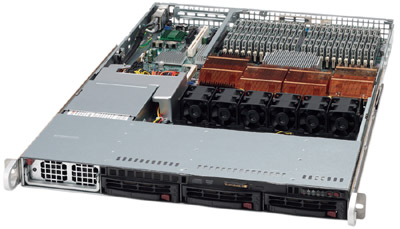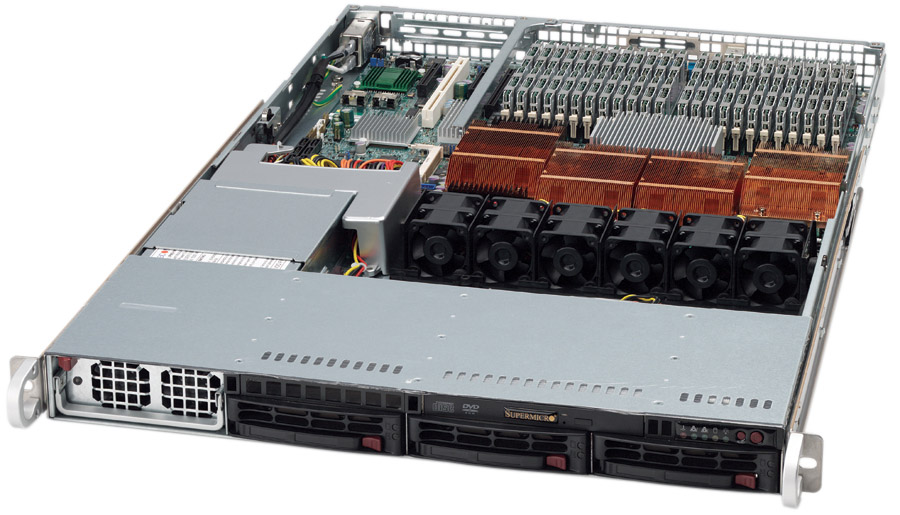 • Configure
• Photos
eRacks/X4X4
The eRacks/X4X4 is an Intel® Xeon® 7300-series (Tigerton 4-Core)with Four CPUs in a 1U system. It has three hot-swap SATA II hard drives and supports both 32- and 64-bit Operating Systems. The Quad-Core Intel Xeon processor enables a dramatic improvement over the Dual-Core, and is the latest and greatest in a virtualization server.
Experience up to 2x greater scalable performance, 2.5x greater virtualization performance, and 3x performance per watt than the industry-leading Dual-Core Intel Xeon processor in the same power envelope. .
eRacks can also install and configure your virtualization setup. Contact us or simply write in your request in the Notes field of your order. For orders with over 32GB memory, please call for special pricing. Other chassis/motherboard/processor configurations are possible. Email or call eRacks for a custom quote.
The standard hardware configuration includes:
·1U-height Chassis, 1000W High-efficiency Power Supply
·3 Removable Hot-swap SATA II Hard Drives
·Dual- or Quad-core Intel® Xeon® 7200/7300 604-pin X7QCE motherboard
·Onboard Dual-port Gigabit Ethernet
·Onboard ATI ES1000 32MB PCI graphics controller
·4 x Intel Xeon Quad-core CPUs 1066FSB
·24 x 240-pin DIMMs, DDR2 ECC FB-DIMM Memory (Fully Buffered DIMM)
·1 x 8 PCI-Express Slot
·IPMI option
·Slim CDROM drive
·Ubuntu Linux Server plus
Ubuntu Advantage Essential 1 yr
, or other open source OS

eRacks/X4X4:

This system is based on the Supermicro SuperServer 8015C-TB.
---
Configure eRacks/X4X4
Choose the desired options and click "Add to Cart". You may also request a quote, please add additional requests and information in the "Notes" field. Your quote request will be sent to your profile's eMail if you are logged in, otherwise enter the email address below (required only if not logged in).
Current Configuration
Base Price: $ 9295.00
As Configured: $ 9295.00
Configuration Summary:
Default Configuration
---
More eRacks/X4X4 Photos