Nov 30, 2015 - eRacks Upgrades SMB Cloud / Storage Servers - 32 to 128TB in 1U-3U of Rackspace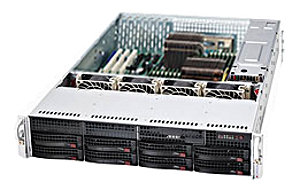 Los Gatos, California – November 30, 2015 – eRacks Open Source Systems, the leading provider of Open Source rackmount storage server solutions based in California, announced today a new upgrade to its four value-range, cloud-ready servers, providing a selection between 32 to 128 Terabytes of raw storage space. The servers can provide a greener, eco-friendly solution by using 8 Terabyte HGST hard drives, or an unprecedented price-point with the Seagate Archive 8TB SMR drives. Either way, eRacks achieves high storage density with these new 8TB-capacity drives.
Utilizing the new high-end hard disk drives, eRacks/NAS4, NAS8, NAS12, and NAS16 storage server models provide a versatile solution to companies needing network-attached or cloud-based data storage space at an affordable price. The 8 Terabytes HGST hard drives used in these models are the same high quality and high capacity hard drives used in the higher-end server models offered by the company.
eRacks/NAS4 is a 1U high rackmount storage server. The unit holds 4 hot-swappable drive bays for up to 32 Terabytes of raw storage space and comes with up to four Gigabit Ethernet ports. These server series are based on Intel single or dual Xeon-capable motherboards and can be configured with up to 1.5 Terabytes of RAM.
eRacks/NAS8 is another great rackmount storage server solution by eRacks Systems. The unit is 2U high or can be 3U high with optional Optical Drive bay for CD, DVD, and BluRay. The 2U unit can also come with a slim Optical Drive bay as an option. This model holds 8 hot-swappable drive bays for up to 64 Terabytes of total data storage space.
eRacks/NAS12 is a remarkable mid-size data storage server for small to medium size companies that would like an affordable data storage solution but require the high-end power and cloud capabilities that come with higher-end storage servers. This unit requires only 2U on the datacenter rack and has 12 hot-swap drive bays for up to 96 Terabytes of networked raw storage space.
eRacks/NAS16 server model is a top-of-the-line network-attached or cloud-ready solution that has power and capacity enough to be considered a midrange solution. The 3U rackmount unit has 16 hot-swappable drive bays and with the new 8 Terabyte drives, the server has 128 Terabytes of total capacity.
Per eRacks' signature service, the servers come with your choice of open source operating system installed (Ubuntu Linux by default, any other Linux or BSD available), as well as proven, best-of breed cloud-read software such as OpenStack, CloudStack, OpenNebula, or eRacks' own eVirt, lightweight server virtualization platform.
eRacks Systems is committed to providing high-quality open-standards-based systems, and open-source based solutions that are affordable and easy to build on. The company makes it a task to "..Offer simple, gradated solutions to customers, and simplify the daunting task of configuration offered by other providers," says Joseph Wolff, Founder and CTO of eRacks Open Source Systems.
Customers can have other motherboard configurations as well, such as AMD based configuration, high-power quad-socket solutions (Intel or AMD), or low-end, budget-minded single-CPU Non-ECC solutions. Contact the company for details.
eRacks Systems has offices in Hayward and Los Gatos, California. Customers can contact eRacks Systems by phone (408)455-0010 or via email at info@eracks.com. Company's website https://eracks.com is available for further information on all Open Source solutions provided by the eRacks Systems.
eRacks Open Source Systems
Phone: (408)455-0010
Fax: (631) 392-9842
eMail: info@eracks.com