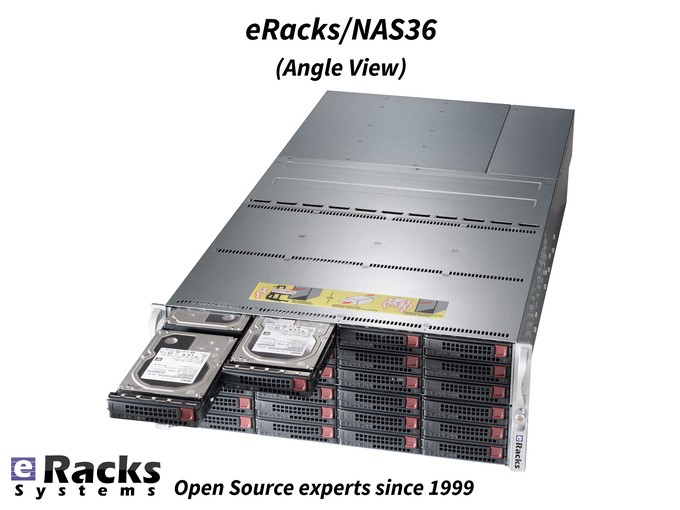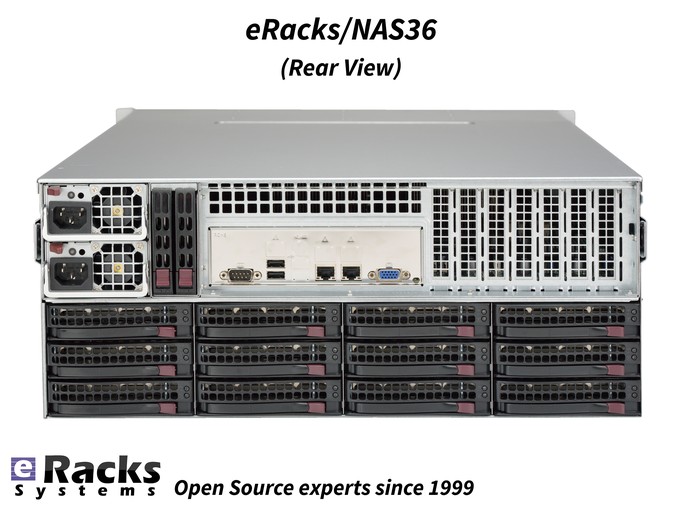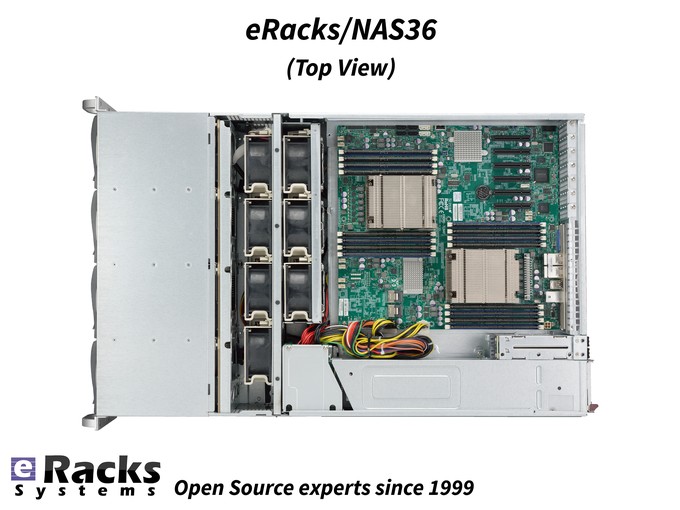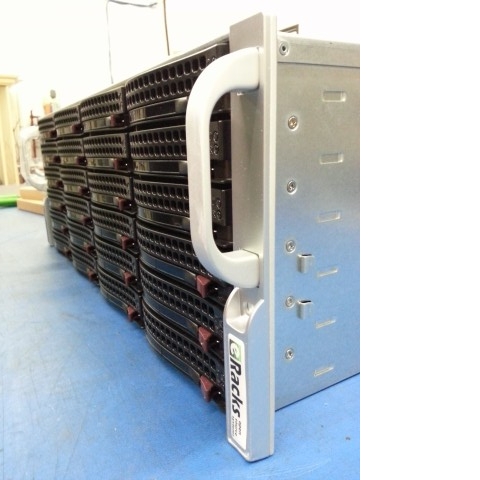 eRacks/NAS36

The eRacks/NAS36 is a 4U-height rackmount Cloud / NAS / Storage server with a single backplane. The RAID controller handles up to 36 drives. The system is 4U in height and contains up to 24 hot-swap SATA3/SAS3 drives in front, and 12 more in the rear.
This yields a nice, compact server that's miserly on the rack U's while big on storage - filled with the best-value 6TB drives, it's 216TB for well under $15000, when configured. With 18TB drives, it maxes out fully configured at 648TB, still for well under $25000.

With the 8TB, 10TB, 12TB, 14TB % 16TB enterprise-class Helium-filled drives from Seagate or HGST, it saves energy too - and is a truly petascale solution in only 4U of Rackspace.
This rounds out eRacks' line of rackmount multi-drive storage servers and NAS solutions, nicely filling the gap between the 24-drive eRacks/NAS24 and the all-front-loading 50-drive eRacks/NAS50, eRacks' flagship storage server.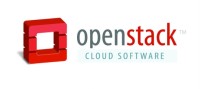 The eRacks/NAS36 is available with cloud software such as OpenStack, Ceph, and other OSS cloud software, such as Eucaluyptus or CloudStack, as well as best-of-breed Open Source software for BigData.
Cloud storage, NAS, and networking – including Hadoop, MooseFS, CIFS, LizardFS, GlusterFS, Ceph, etc – and eRacks is a partner with LizardFS and MooseFS.org.

We will also pre-install any open source NAS software, such as FreeNAS, OpenFIler, NAS4Free and OpenMediaVault, among others - and administrative dashboards and web GUIs are offered on most of these software choices.

Also available is best-of-breed Open Source software for BigData / Cloud storage, NAS, and networking - including Hadoop, MooseFS, CIFS, GlusterFS, etc - and eRacks is a partner with MooseFS.org, as well as with LizardFS.
In addition, our policy is to install any Linux/BSD distro or Open Source software on request - simply enter it the "Notes" filed on the config tab or contact us today at info@eracks.com to see how we can meet your needs.
Please email info@eracks.com or click 'Get a quote' to request a custom quote, or for more information.
---
Features & Specifications
The default configuration includes:
4U Chassis: 1280W Platinum / 1400W Gold-certified redundant Power Supply, 24 removable hot-swap hard drives in front, plus 12 in rear.
CPU: Intel 64-bit multicore Xeon Processor(s).
Drives: Up to 36 SATA3/SAS3 drives, removable hot-swap.

Memory: DDR4 ECC/REG up to 3TB total RAM.
Slots: PCI/x/e/16.
Video: Onboard Graphics Controller.
LAN: Dual Intel Gigabit Ethernet Controllers; up to 4x available, 10GbE available, 1x dedicated IPMI.
Ports: USB 2.0/3.0 Ports, Optional: 2x PS/2 Ports, Serial Ports.
Operating System: Ubuntu Linux 18.04 LTS Server Edition.
Cloud & NAS Software: OpenAttic.
Dimensions: 27.5" (699mm) Depth, 7" (178mm) (4U) Height, 17.2" (437mm) Standard Rackmount Width.
Note: Shipping weight will be approximately 120 pounds plus packaging. Shipped on a pallet - Packaging will include a wooden frame or complete wooden container.
---
Configure eRacks/NAS36
Choose the desired options and click "Add to Cart". You may also request a quote, please add additional requests and information in the "Notes" field. Your quote request will be sent to your profile's eMail if you are logged in, otherwise enter the email address below (required only if not logged in).
Current Configuration
Base Price: $ 10495.00
As Configured: $ 10495.00
Configuration Summary:
Default Configuration