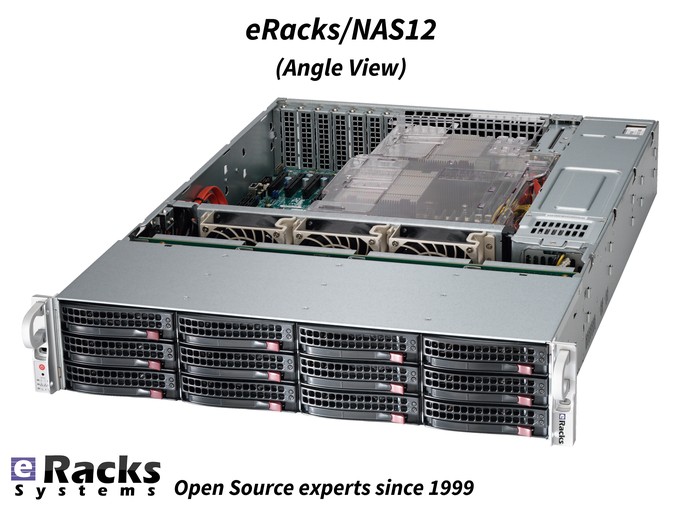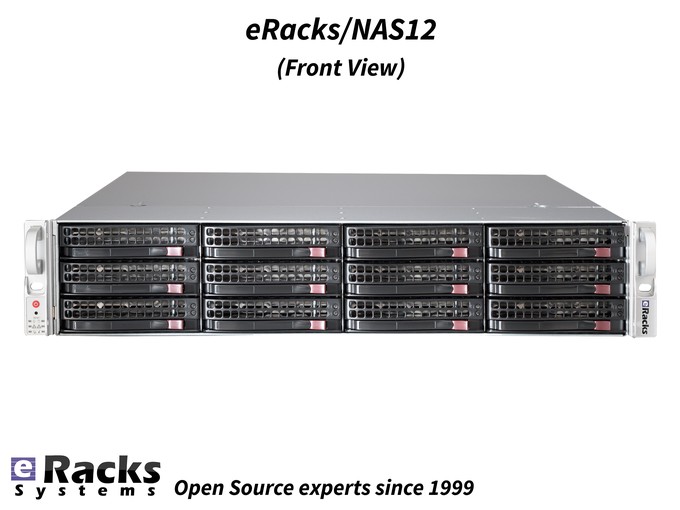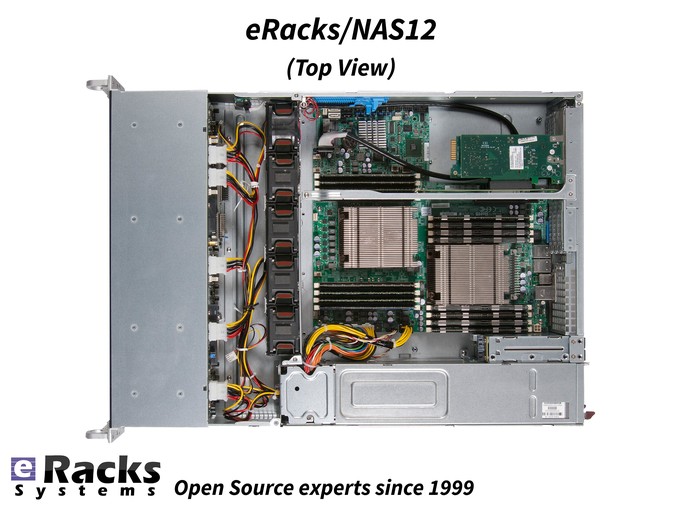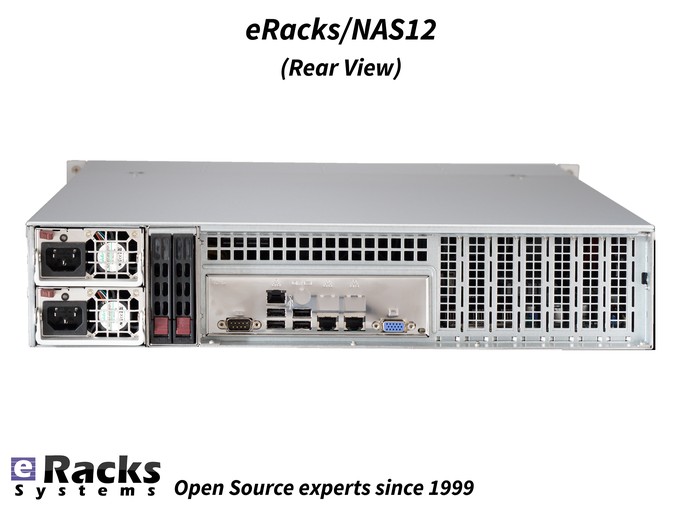 eRacks/NAS12

The eRacks/NAS12 is a great mid-size data storage server solution for small-to-medium size companies (the SMB mnarket) that may require larger amounts of disk space, but do not need all the high-end power and cloud capabilities that come with our larger storage servers.
The eRacks/NAS12 Network Attached Storage (NAS) rackmount server requires only 2U on the datacenter rack, and has 12 hot-swap drive bays. With eRacks Systems' partnership with WD (and HGST), and the latest 18 Terabyte hard drives, the unit now can store up to 216 Terabytes of networked raw storage space.
Fail-safe

The eRacks/NAS12 comes standard with Redundant High-efficiency Power Supplies. These hot-swappable redundant PSUs mean that if one fails it can be replaces with no down-time while the other one powers the system.
Ready to go!

As always, your server purchased from eRacks Systems will come pre-installed and ready-to-use, with your choice of open source operating system and software. Customers can have other motherboard configurations as well. Please contact us for details.
Green

THe top hard drive brands (HGST, Seagate, WD) offer enterprise-class, high-reliability, helium-filled "Green" drives, which use less power, while providing more data storage space. Choosing these drives make the eRacks/NAS12 a truly greener eco-friendly solution. WD Green drives are also available as well!
Archival or Near-line storage

The Seagate or HGST Archive SMR (Shingled Magnetic Recording) drives are for archival applications which have a typical usage profile of writing mostly new data (or journal-style data "At the end"), rather than re-writing existing data - hence the choice of these drives is more well-suited for Archival applications, or Near-Line Storage or Cold Storage.
Pre-configured
As always, the unit comes pre-installed with your choice of open source operating system and software, and pre-configured to your needs and instructions - simply put any special provisioning or partition requests in the "notes" field when you place your order or request a quote.

Cloud-Ready
For virtualization, we can install OpenStack, CloudStack, or our own lightweight eVirt™ virtualization (on request), or your choice. Ket us know your needs and preferences.
Hybrid SSD/NVMe
Available by custom quote: eRacks/NAS12 with 8+4 drives - 4x NVMe SSDs for OS, Logs, etc - extremely fast!
Scale-out or Scale-up
For network storage / SDS (Software-defined-storage), we can install Ceph, DRBD, Samba, DLNA, NFS, etc. - you name it, we'll install it for you. Default configuration is with Ubuntu, OpenFiler, or basic file server with sftp, and CIFS.
Contact us
Please Contact us, email info@eracks.com with questions, or click "Get a Quote" below to request a custom quote.
---
Features & Specifications
eRacks/NAS12 hardware configuration includes:
Chassis: 2U-height, Redundant High-efficiency Power Supply
Hard Drive Bays: 12 Hot-swap 3.5" hard drive bays
Motherboard: eRacks-certified Intel single Xeon (dual Xeon-capable motherboard by custom quote).
NICs: 2x or 4x Gigabit Ethernet, 2x / 4x 10GbE available, or higher by quote.
IPMI: Onboard IPMI with dedicated RJ45 GbE port.
CPU: Intel Xeon CPU (Dual Xeon or AMD configs by custom quote).
Memory: DDR4 ECC/REG Memory.
Hardware RAID card: LSI SATA/SAS 12-port.
Note: AMD-based configurations, single/dual/quad socket, multi-core, etc are available by custom configuration request.
---
Configure eRacks/NAS12
Choose the desired options and click "Add to Cart". You may also request a quote, please add additional requests and information in the "Notes" field. Your quote request will be sent to your profile's eMail if you are logged in, otherwise enter the email address below (required only if not logged in).
Current Configuration
Base Price: $ 4695.00
As Configured: $ 4695.00
Configuration Summary:
Default Configuration