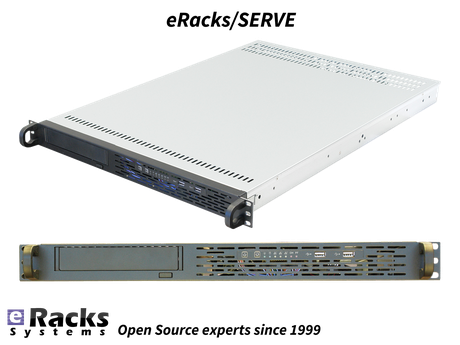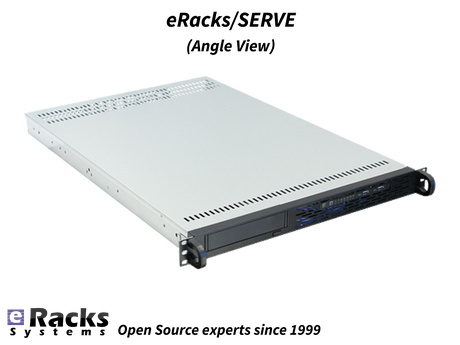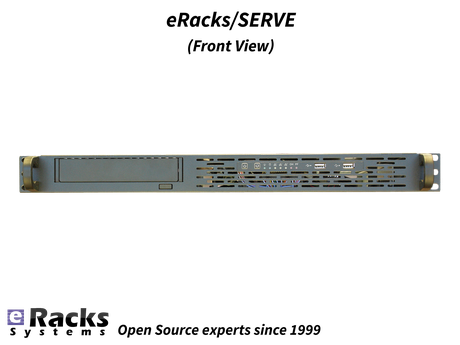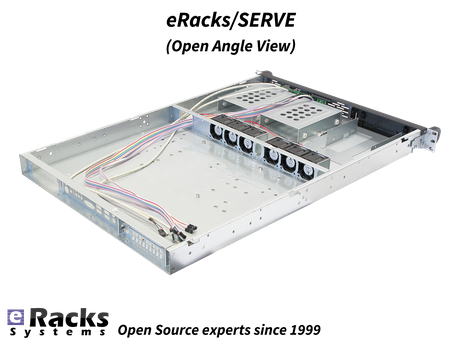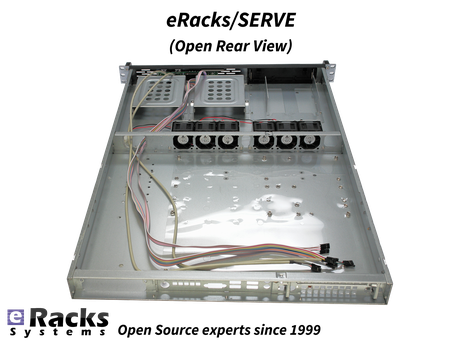 eRacks/SERVE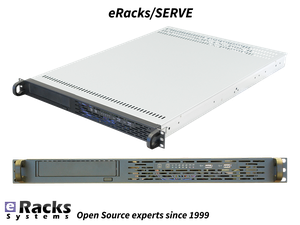 The eRacks/SERVE Server is our entry-level server - an affordable and reliable solution in 1U or 2U Chassis. eRacks/SERVE is ideal for both general home and office applications.
The eRacks/SERVE Server is ideal for both large computational jobs and for remote access. Normal workload that takes days or weeks to complete, and makes a normal machine run horribly slow, this system does these things in minutes for you. The system could be use as print server, application server, a database, file server, and servers that allow and provide access to other networks, including the Internet. As long as the systems doesn't have the overload, these systems are excellent choice for home use and entry-level works.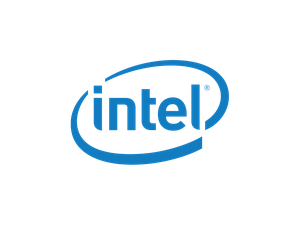 eRacks offers general purpose rackmount servers, configured with your choice of operating system, including Ubuntu Linux®, Debian, CentOS, Fedora, Red Hat® Linux, Arch Linux, FreeBSD, OpenBSD, openSUSE, Mageia, and more! This is our primary 1U "Workhorse" x86 (64) server category.
The eRacks/SERVE also a capable workhorse in a colocation environment, as well, and can be configured with many additional options, including an Intel i3 CPU, optical drive (DVD/CD/BD), extra hard drives, SSDs, and more.
eRacks offers custom configurations, and your choice of specific components by special request. Email us today at info@eracks.com for more information. eRacks also offers network consulting and open source migration services.
---
Features & Specifications
Chassis: 1U / 2U rackmount chassis.
Motherboard Compatibility: Support EEB, CEB, ATX, Micro ATX, Mini-ITX.
Power Supply Options: Standard 1U single power supply
Memory: Supports up to 64GB DDR4 Non-ECC Memory in 4 DIMM slots. Could be raised up to 512GB ECC Memory with custom configurations.
Drive Bay: Supports two 3.5″ drives and one 5.25″drive
Cooling Fan: 6 x 40mm middle fans wall
Switch: Power ON/OFF x 1, System reset x 1
Indicator: Power ON/OFF x 1, HDD x 1, NETWORK X 2
Connector: Two front USB ports
Weight: 7 kg/15.5 lb (NET) 8.5 kg/19 lb (GROSS)
---
Configure eRacks/SERVE
Choose the desired options and click "Add to Cart". You may also request a quote, please add additional requests and information in the "Notes" field. Your quote request will be sent to your profile's eMail if you are logged in, otherwise enter the email address below (required only if not logged in).
Current Configuration
Base Price: $ 995.00
As Configured: $ 995.00
Configuration Summary:
Default Configuration