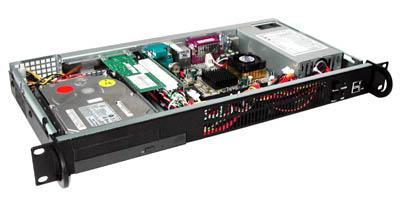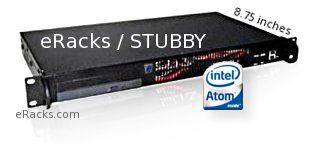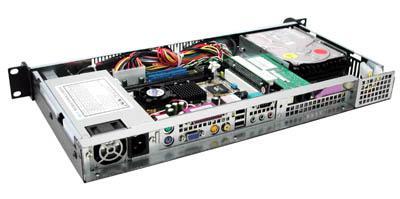 eRacks/STUBBY

The eRacks/STUBBY is perfect for projects requiring shallow rackmount space, such as radio or other broadcast application, audio studio, and home theater. The Mini ITX motherboard supports an Intel Atom CPU, and the default configuration consists of
- 8.75in (D) x 19in (W) x 1.75in (H) 1U rackmount chassis, 140W PS
- Intel 1.6GHz Atom 230 533 MHz FSB Mini-ITX motherboard and CPU
- 1GB DDR2 memory
- 160 GB SATA II hard drive
- Slim CDROM drive
- Built-in Intel Graphics with GMA 950 Technology
- Onboard Realtek Audio and LAN
- 1 PCI slot is available.
- Quietization tip: Choose a Flash Drive if minimizing system noise is a priority.
The upgrade motherboard runs the 1.6GHz dual core Atom 330 processor and Intel 945GC chipset. Featuring characteristics well suited for both industrial and networking applications, it has 6 RS-232 COM support, a wide operating temperature range, watchdog timer, and wireless connectivity (via PCIe Mini Card slot). This mainboard is also fanless, making it quieter, and an excellent low-power option for home servers.
---
Configure eRacks/STUBBY
Choose the desired options and click "Add to Cart". You may also request a quote, please add additional requests and information in the "Notes" field. Your quote request will be sent to your profile's eMail if you are logged in, otherwise enter the email address below (required only if not logged in).
Current Configuration
Base Price: $ 795.00
As Configured: $ 795.00
Configuration Summary:
Default Configuration