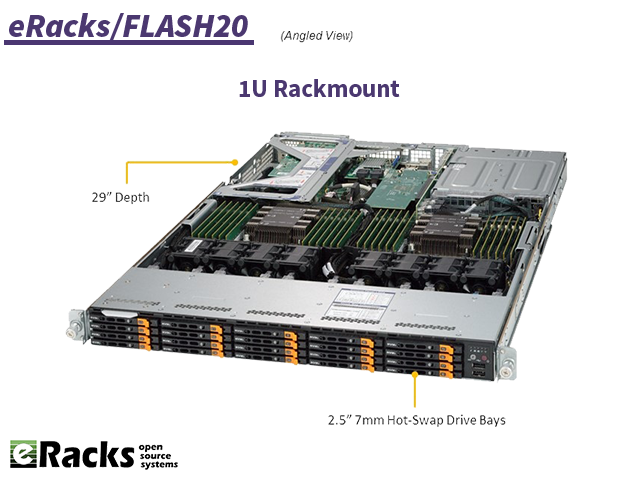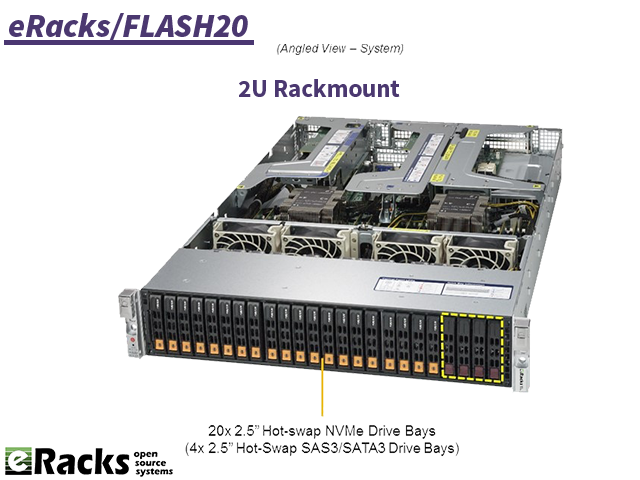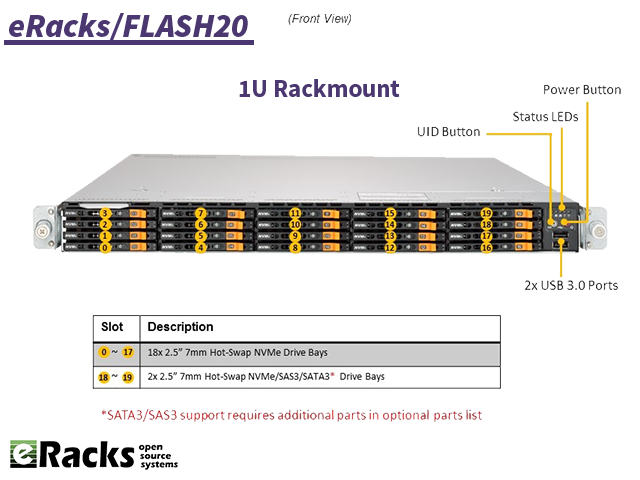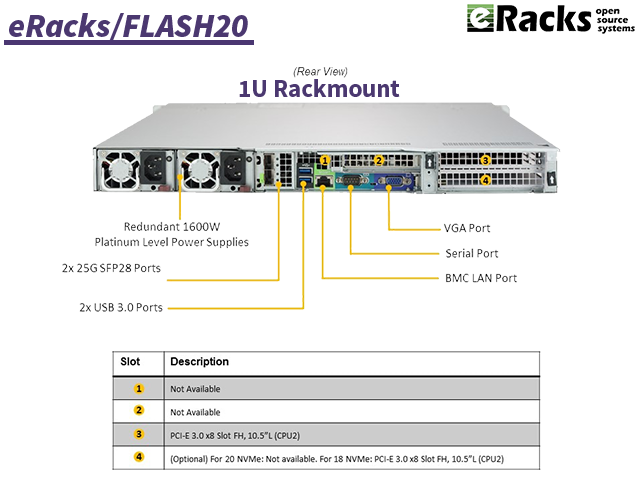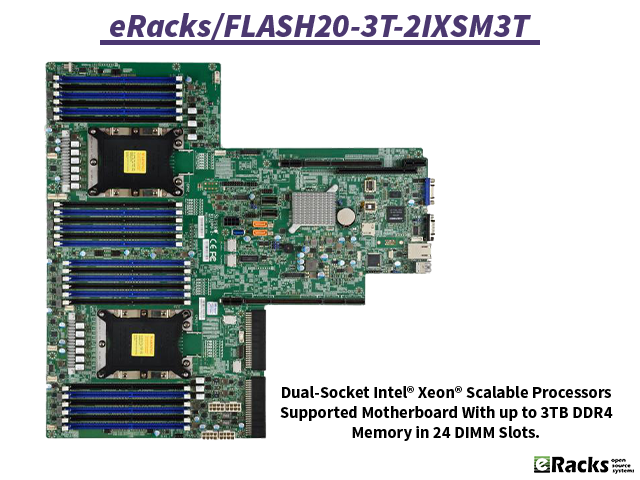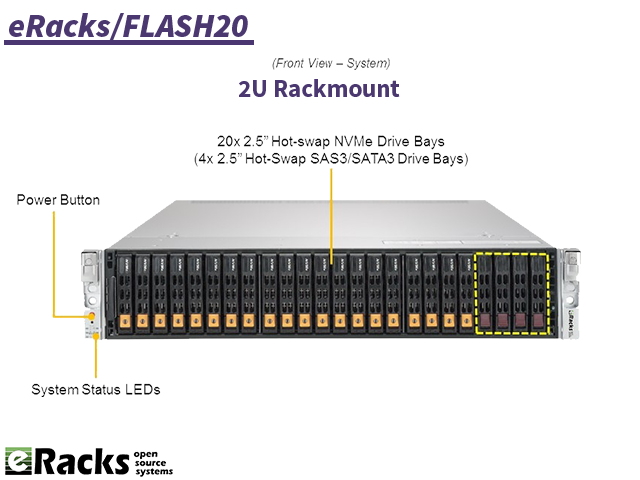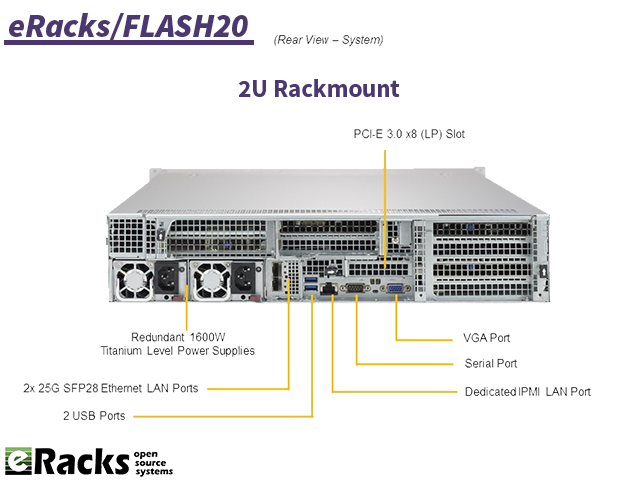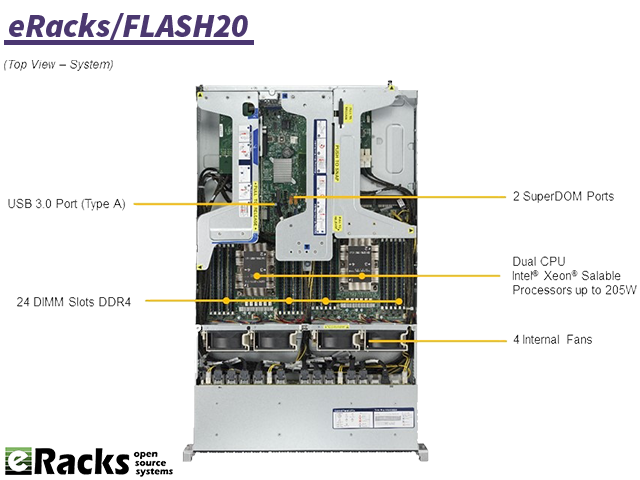 eRacks/FLASH20

eRacks/FLASH20 is dual- Intel Xeon Scalable Processor based system and delivering up to 120TB of raw storage with 18x 3.84TB Samsung Enterprise 2.5-inch NVMe (24 GB/s) SSDs in 2.5" Hot-Swap Drive Bays in a 1U/2U form-factor Rackmount Chassis. And additional 30TB with 2 hybrid bays in 1U Chassis or 60TB in 4 hybrid bays in 2U Chassis.
eRacks/FLASH20 storage servers considerably reduce power requirements compared to data centers utilizing traditional disk drives. These Solid-State Drives have no moving or mechanical components, as opposed to traditional drives, which require moving actuator arms and motors. The new eRacks/FLASH20 servers thus use significantly less power and are therefore a truly "Green" solution.
The Solid-State Drives in eRacks/FLASH20 servers are considerably faster and more reliable than their platter-based disk drive counterparts, as there are no moving parts, and little or no latency as a result. They are "Wear-leveled" to reduce write wear, and incur no physical wear over time, nor are they susceptible to damage due to physical trauma or accident. These SSD drives are also much more resilient in unexpected and unfavorable environments, adding security assurance for the data stored on them.
As always, eRacks/FLASH20 servers come pre-configured with the latest & greatest Open Source software of your choice - in addition to the Operating Systems (Ubuntu by default), you can choose OpenStack, Ceph, or any of the open source storage or Big Data software out there, or write in what you want, in the "Notes" field when you place your order or request a quote.
---
Features & Specifications
Chassis: 1U/2U Rackmount Chassis with 18x hot swap NVMe and 2/4 hot swap hybrid bays.
Motherboard: eRacks/FLASH20-3T-2IXSM3T (up to 3TB DDR4 Memory in 24 DIMM slots).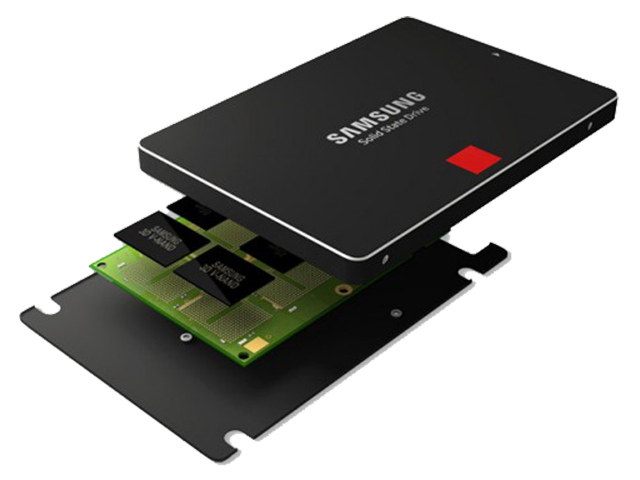 Processor: Dual-Intel Xeon Scalable Processors.
Memory: 24x DDR4-2666/ 2400/ 2133 MHz DIMM Slots, supports up to 3TB ECC/3DS Load Reduced Memory or up to 3TB ECC/REG Memory.
Slots: 1x PCI-Express 3.0 x8 Slots (Full-height, Half-length).
SATA: 8x NVMe Ports + 2x SAS/SATA3/NVMe Hybrid Ports (from CPU 1), 10 NVMe Ports (from CPU 2).
Video: Aspeed AST2500 BMC Graphic.
LAN: 2x 25GbE SFP28 ports via AOC-URN4-M2TS (Mellanox ConnectX-4 Lx EN).
Drive Bays: 20x Hot-swap 2.5" 7mm Drive Bays.
Ports: 3x USB 3.0 Ports (2 rear, 1 Type A), 2x USB 2.0 Ports (front), 1x VGA Port, 2x 25GbE SFP28 Ports, 1x RJ45 Dedicated IPMI LAN Port.
Form Factor: 1U/2U Rackmount.
Power Supply: 1600W 80 PLUS Titanium Level Redundant Power Supplies w/ PMBus.
System Cooling: 8 Heavy Duty Fans w/ Optimal Fan Speed Control; 2x Air Shroud.
Front Panel:
Buttons: Power On/Off, System UID.
LEDs: Power, HDD Activity, Network Activity, UID.
Dimensions (WxDxH): 17.2 x 27.8 x 1.7 inch / 437.0 x 706.0 x 43.0 mm.
---
Configure eRacks/FLASH20
Choose the desired options and click "Add to Cart". You may also request a quote, please add additional requests and information in the "Notes" field. Your quote request will be sent to your profile's eMail if you are logged in, otherwise enter the email address below (required only if not logged in).
Current Configuration
Base Price: $ 9895.00
As Configured: $ 9895.00
Configuration Summary:
Default Configuration