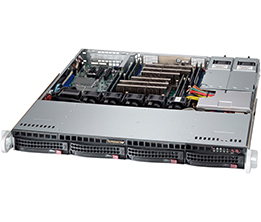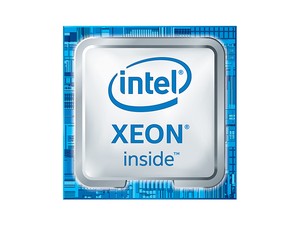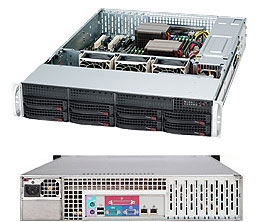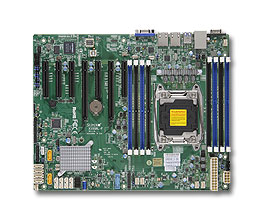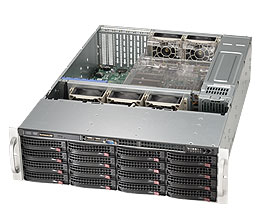 eRacks/INTELLINATOR22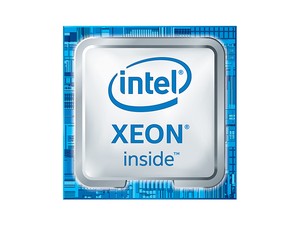 The eRacks/INTELLINATOR22 is a Single Intel® Xeon® E5/Bronze/Silver/Gold Processor based system. This system could support up to 22 cores & 44 Threads E5-2600 v4 processor in a FCLGA2011-3 socket based motherboard.
Selected Motherboards for eRacks/INTELLANATOR22 system either could support up to 1TB DDR4 ECC Registered Memory in 8 DIMM Slots or could support up to 512GB DDR4 ECC Registered Memory in 4 DIMM Slots. For different environments and customer requirements, this system comes with 1U, 2U and 3U Rack Mountable Chasses with 4,8 & 16 hot-swappable 3.5-inch drive bays respectively.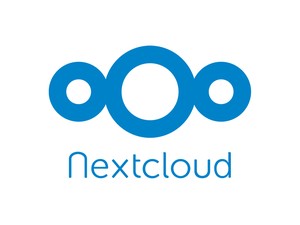 For powering this system require 400W Redundant Power supply for 1U Chassis, 560W Redundant Power supply for 2U Chassis (600W as optional), 800W Redundant Power supply for 3U Chassis (1000W as optional). These all PSU consume low wattage thus save the cost.
Small or starter Enterprise could start with the default settings. It is with Intel Xeon E5-1620 v4 (4 Cores @ 3.60GHz, PScore 14269), on Single-Socket Intel Xeon Motherboard with 512GB Memory Support in 4 DIMM slots (eRacks-Certified). So, the responsible person could upgrade each of the hardware components according their needs with ese.
Example, one may start with the 32GB RAM with 8TB of Raw Storage. And 6 Cores, 12 Threads CPU as the system's processing cheap. As the Enterprise grows and the more storage is required. So, the person is able to upgrade the storage drives up to 16x by just replacing the Chassis with 3U without upgrading the entire system. With 3U Chassis, this system could provide up to 224TB (16x 14TB) of RAW storage without having a major change to the default hardware configuration. In the same way one could upgrade the total memory with up to 1TB by just replacing the Motherboard or Processing power by replacing the CPU with the 22 cores, 44 thread CPU with the existing hardware.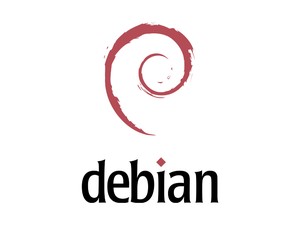 In one sentence, it is absolutely not necessary to compromise any of the existing hardware except that "ONE" which is getting upgraded.
This systems' Processors support all the latest Virtualization Technology. So, this system is very ideal for Enterprise class Virtualization server. Also, it is the best candidate for the Rackmount able Workstations class server system. Specially for them who are not providing IT services as their business.
As always, the eRacks/INTELLINATOR22 server is pre-configured with the best-of-breed and newest Open Source software that customers need. Despite working with regular SATA storage, it offers a much better performance than conventional performances. Customers can choose Ceph, OpenStack ZFS, FreeNAS, or any Big Data or open source storage software, including SDS (Software-Defined Storage) options, in addition to a Linux or BSD OS such as Ubuntu OS, OpenBSD for security, or FreeBSD / FreeNAS. Customers are also encouraged to request their own custom Open Source software stack, when requesting a quote, or work with the experts at eRacks to determine their needs on a consulting basis.
As always, these systems come with Standard 1yr full /3yr limited warranty.
Note: For orders with over 128 GB memory, use the Quote request button, eMail us, use the contact form, call us, or simply write in your request in the 'Notes' field when you place your order.
---
Features & Specifications
Chassis & Storage options
eRacks Systems offers 3 different optional Rackmount Chasses with 1U, 2U and 3U depth for different storage capacity. These Chasses are featured with many options. As example,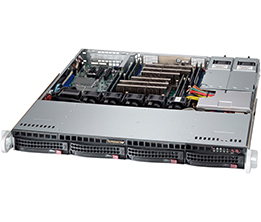 1U Chassis support 4x 3.5-inch hot-swap SAS/SATA HDDs (up to 4x 14TB = 56TB) through 4-port 1U TQ backplane (W/ enclosure management), powered with 1U 400W Redundant single output power supply, W/PMbus, gold level, up to, has 1 full height expansion slot with 4 x 40x28mm PWM fans & Optional 2 x fans for AOC cooling.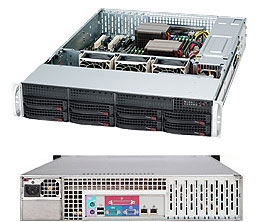 2U Chassis support up to 8x 3.5-inch hot-swap SAS/SATA drive bays (up to 8x 14TB = 112TB) w/ full SES-II support on SAS motherboards, 2 x 3.5" fixed drive bays, 8-port 2U TQ (W/ AMI 9072) backplane, powered with 1U 560W/600W Multi-output power supply Gold level, 24Pin output, has 7 low-profile expansion slots, 3 x 8cm (7000 RPM) hot-swap PWM cooling fans.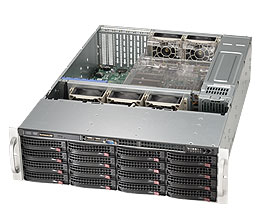 3U Chassis support up to 16 x 3.5" hot-swap SAS/SATA drive bays (up to 16x 14TB = 224TB) with SES2, optional 2 x 2.5" hot-swap drive bays via 16-port 3U SAS3 12Gbps single-expander backplane, powered with 1U 800/1000W Redundant Titanium Single Output Power Supply W/PMbus, has 7 full-height & full-length expansion slots with 3 x 8cm hot-swap redundant PWM cooling fans & 2 x 8cm hot-swap exhaust fans & air shroud.
Processor options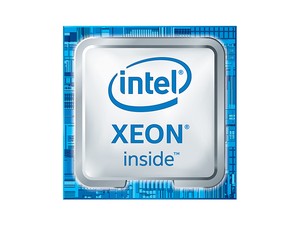 The eRacks/INTELLINATOR22 support numbers of Intel® Xeon® E5/Bronze/Silver/Gold Family processors. These all Processors support todays Advanced Technologies like Intel® vPro™ Technology, Intel® Hyper-Threading Technology, Intel® Virtualization Technology, Intel® Virtualization Technology for Directed I/O, Intel® Flex Memory Access and so one. eRacks Systems offers to their customers to select their required processors from the dropdown menu according to environments and budget.
Motherboard and Memory options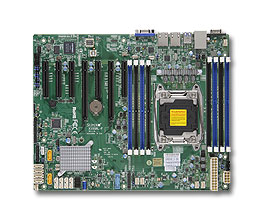 The eRacks/INTELLINATOR22 system has no specific pre-selected motherboard with the default system configuration. eRacks Systems offers their customer absolute freedom for their required product configuration and cost savings thus the Customer need to select the Motherboard according to their required system configuration. Also, in case of difficulties for system configuration for the use environments and best performances, the eRacks Systems' experts and system engineers offers their consultancy and suggestions for customer's business environments with any system parches. eMail us for details.
Manageability and security for eRacks/INTELLINATOR22 system
Powerful systems management features simplify local and remote management of the eRacks/INTELLINATOR22:
eRacks/INTELLINATOR22 offers comprehensive hardware management tools that help to increase uptime, reduce costs and improve productivity through advanced server management capabilities.
Integrated Trusted Platform Module (TPM) 2.0 support enables advanced cryptographic methods, such as digital signatures and remote attestation.
Supports Secure Boot to ensure only a digitally signed operating system can be used. Supported with HDDs and PCI-e SSDs as optional storage.
Industry-standard Advanced Encryption Standard (AES) NI support for faster, stronger encryption.
Intel Execute Disable Bit functionality can prevent certain classes of malicious buffer overflow attacks when combined with a supported operating system.
Intel Trusted Execution Technology provides enhanced security through hardware-based resistance to malicious software attacks, allowing an application to run in its own isolated space, protected from all other software running on a system.
---
Configure eRacks/INTELLINATOR22
Choose the desired options and click "Add to Cart". You may also request a quote, please add additional requests and information in the "Notes" field. Your quote request will be sent to your profile's eMail if you are logged in, otherwise enter the email address below (required only if not logged in).
Current Configuration
Base Price: $ 3895.00
As Configured: $ 3895.00
Configuration Summary:
Default Configuration