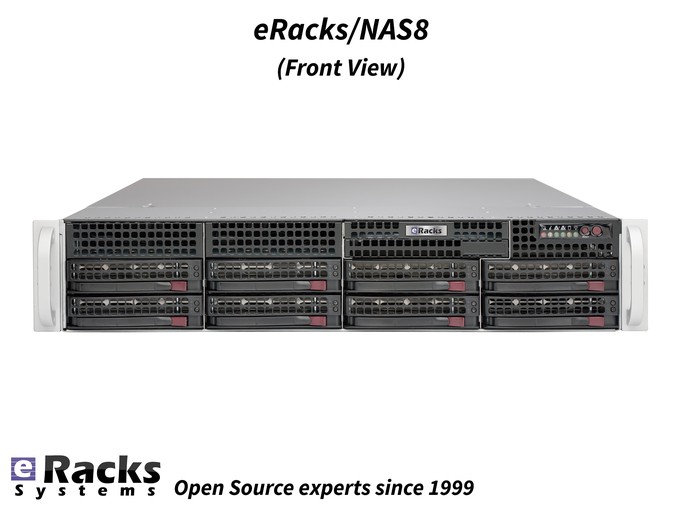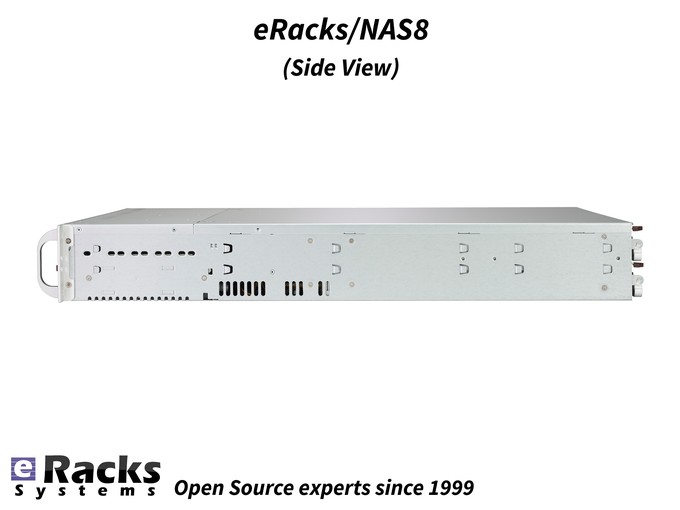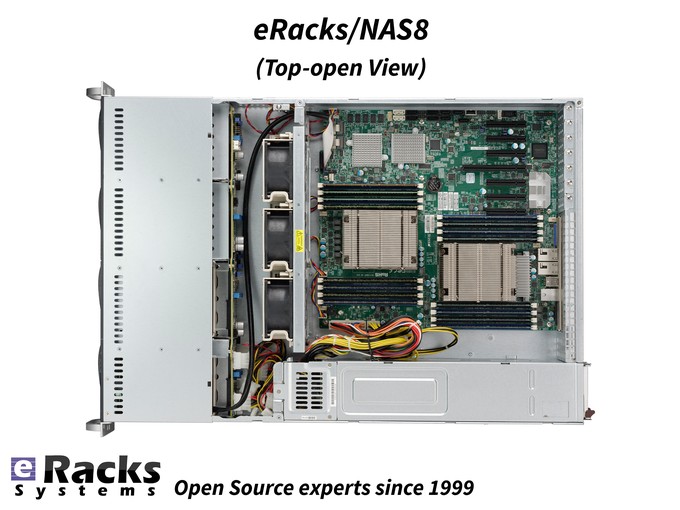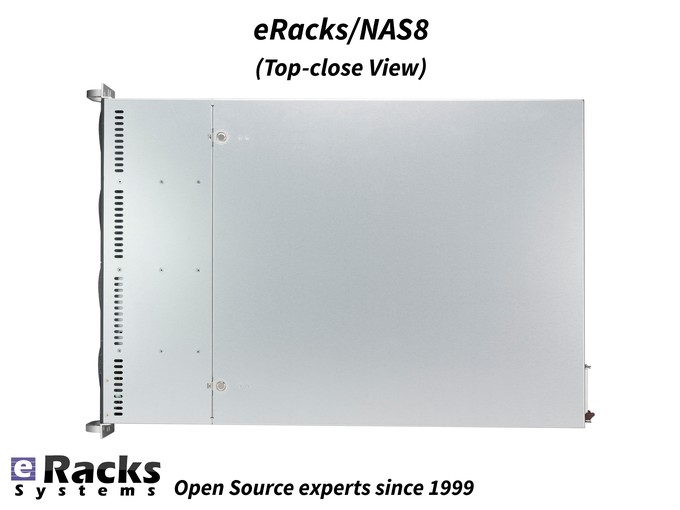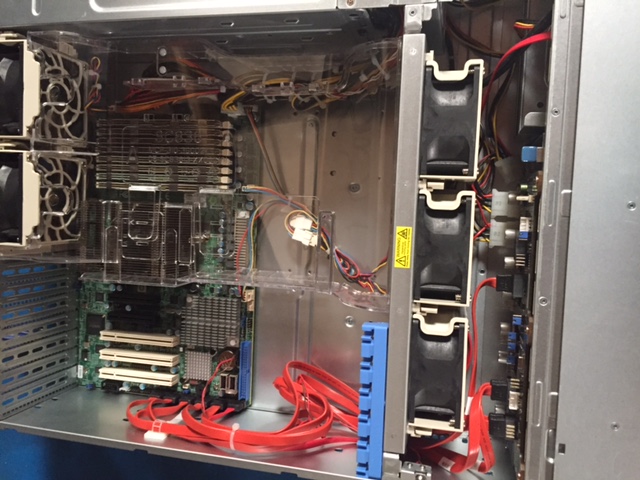 eRacks/NAS8

The eRacks/NAS8 is a 2U large capacity storage server with eight 3.5" hot-swap drive bays. With the latest 18TB drive technology eRacks/NAS8 storage server can now provide up to 144 Terabytes of raw storage space. Even more with SMR drives - ask us for a quote today!
As always, the unit comes pre-installed with your choice of open source operating system and software. There is still room for an available DVD/BD/CD Optical drive, and a 3U chassis version with vertical drive bays.
Green
The Seagate, WD, and HGST drives are enterprise-class, high-reliability, helium-filled "Green" drives, which use less power while providing more data storage space. Choosing these drives make eRacks/NAS8 a truly a greener solution.
Archival
The Seagate or HGST Archive SMR/PMR (Shingled Magnetic Recording) drives are for archival applications which have a typical usage profile of writing mostly new data (or journal-style data "At the end"), rather than re-writing existing data - hence the choice of these drives are more well-suited for Archival applications, or Near-Line Storage or Cold Storage.
Pre-configured
eRacks/NAS8 is delivered pre-configured with the latest open source operating system and software per your requirements, including, but not limited to, Ceph, LizardFS, OpenStack. Cloudstack, Open Nebula, Samba, or your choice of any other open-source packages you need - just put your requirements in the "Notes" field when you place your order or request a quote.
Cloud-Ready
For virtualization, we can install OpenStack, CloudStack, our own lightweight eVirt™ virtualization, or your choice.
Scale-out
For network storage / SDS (Software-defined-storage), we can install Ceph, DRBD, Samba, DLNA, NFS, etc. - you name it, we'll install it for you.
Contact us
Please email info@eracks.com with questions or click "Get a Quote" to request a custom quote.
---
Features & Specifications
eRacks/NAS8 standard hardware configuration includes:
2- hieght rackmount chassis; 3U available (also with full-height 5.25" bay)
2U SATA / SAS backplane with Enclosure Management
Multiply-redundant power supply options available
8 Removable 3.5" hot-swap drive bays
Motherboard: Intel single or dual Xeon-capable motherboard
2x (4x available) Gigabit Ethernet (2 or 4-ports 10GigE also available)
On board dedicated IPMI GbE or 10GbE or more
Optional Dual-Xeon processors also available
Up to 1.5TB DDR4 Memory available by custom quote
RAID card: LSI / 3ware / Avago SATA / SAS 8-port
Note: AMD-based configurations, single/dual/quad socket, multi-core, etc are available by custom quote.
Please email info@eracks.com or phone to request a custom quote.
---
Configure eRacks/NAS8
Choose the desired options and click "Add to Cart". You may also request a quote, please add additional requests and information in the "Notes" field. Your quote request will be sent to your profile's eMail if you are logged in, otherwise enter the email address below (required only if not logged in).
Current Configuration
Base Price: $ 3695.00
As Configured: $ 3695.00
Configuration Summary:
Default Configuration