eRacks/FLASH72

eRacks/FLASH72 is now delivering up to 1.11PB (Petabytes) of raw storage with 15.36TB Samsung Enterprise 2.5-inch SAS III (12 GB/s) SSDs in 72 x 2.5-inch (48-front + 24-rear) Hot-Swap Drive Bays in a 4U form-factor Chassis.
This all flash system is configurable up to 44 core with dual-Intel® Xeon® E5-2600 v4 Family Processors or dual-Intel® Xeon® E5-2600 v3 Family Processors and this eRacks/FLASH72 can back these processors up with up to 3TB high-frequency DDR4 ECC Registered memory in 24 DIMM slots. Alongside SAS-III SSD drives this system can be configured with both SATA 6 GB/s or 24 GB/s NVMe drives as well.

eRacks/FLASH72 servers are ideal for hyper-convergence and latency sensitive applications. Data scientists, cloud and HPC workloads are all ideal candidates too for eRacks/FLASH72. While the cost per gigabyte of flash storage exceeds that of traditional rotating hard drives, where FLASH72 have decreased these costs significantly by making All-Flash storage system that is very compelling for these workloads.
eRacks/FLASH72 server can be set up either with SAS 12 GB/s or SATA 6 GB/s based SSD drives in a traditional All-Flash array or, lately, utilizing non-volatile memory or NVMe directly connected to the PCI-express I/O on the server. In either case, the IOP performance and throughput greatly exceeds that of traditional rotating media.
The greatest benefit of utilizing an eRacks/FLASH72 server equates to performance in both IOPs and throughput. Latency, or the time it takes for a server to answer a request, is greatly reduced by the read/write speed of the All-Flash storage than traditional magnetic hard drives. Capacity and wear tracking for SSDs is at a point where eRacks/FLASH72 configuration meets the needs of most workloads.
eRacks/FLASH72 with SAS-III/SATA-III/NVMe drives is optimized for many I/O intensive enterprise applications such as advanced data mining, Big Data/Cassandra/Hadoop, Network Attached Storage (NAS) such as FreeNAS, SDS (Software-Defined Storage) such as Ceph, FinTech/Financial transactions, and other online transaction processing (OLTP) applications, that were previously not possible to achieve this level of performance with standard SAS and SATA SSD storage.
eRacks/FLASH72 server system with All-Flash Storage Array is ideal for,
Virtualization Servers.
High Performance Computing (HPC).
Big Data & Advanced Data Mining.
Network Attached Storage.
High Frequency Trading.
High Security Encryption Datacenter.
Cluster and Supercomputer Applications.
And other high-performance computing.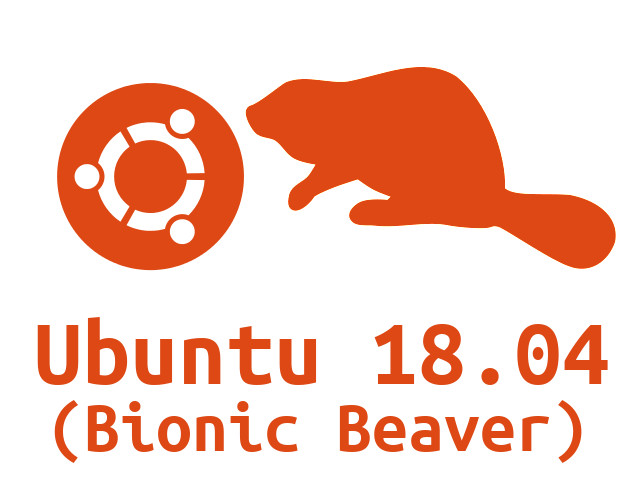 eRacks/FLASH72 server system with All-Flash Storage Array Benefits,
Large throughput gains (Up to 6x).
Substantial latency improvements (Up to 7x).
Shared common backplane improves flexibility of drive choice.
2.5" form factor for improved serviceability.
Very high-speed read/write capability.
Improved power efficiency.
Almost no operating vibrations.
As always, eRacks/FLASH72 server offers standard 1year full / 3year limited warranty and it comes with pre-configured with the latest & greatest Open Source software of your choice - in addition to the OS (Ubuntu by Default), you can choose OpenStack, Ceph, or any of the open source storage or Big Data software out there, or write in what you want, in the "Notes" field when you place your order or request a quote.
---
Features & Specifications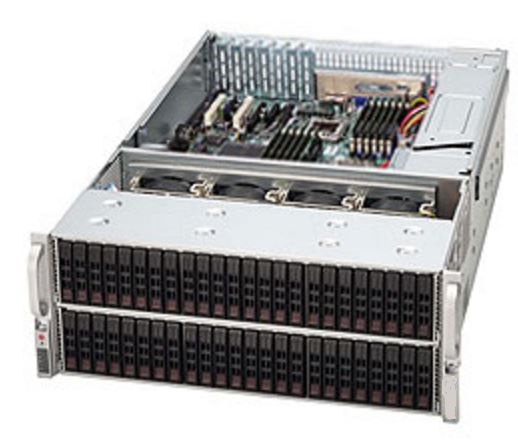 FLASH72 Chassis: eRacks/4U-72RSSD Chassis is a 4U rackmount chassis with 27.2" x 21" x 39.6" Dimensions and 80 lbs (36.29 kg) Gross Weight. This chassis has 72 x 2.5" hot-swappable SSD/HDD bay and 7x low-profile expansion slot(s) with 7x hot-swappable redundant system cooling fans. eRacks/4U-72RSSD Chassis have several Front Panel Buttons including Power On/Off, System Reset, Unit Identification (UID), and LEDs for monitoring Power Status, HDD activity, Network Activity, Fan Fail/System Over Heat. This Chassis supports Single and Dual socket Intel Xeon E5-2600 v4 family processor supported motherboards.

Processor & Motherboard: For this system we offer Dual Intel® Xeon® E5-2600 series latest-gen processors. According to Ones selection, eRacks offer different extreme class Dual eRacks-Certified Intel Xeon motherboard with up to 3TB high frequency DDR4 ECC Registered Memory support.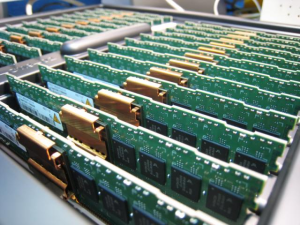 System Memory: This system could support either up to 3TB high-frequency DDR4 ECC Registered memoryin 24 DIMM slots with DDR4 128GB 3SDS LRDIMM Memory modules. Default configuration includes 64GB (8x 8GB) DDR4 ECC Registered memory. Higher capacity DDR4 ECC Registered memory modules are recommended for the best performance.

Operating System Drives (OS Drives): For holding the operating system and keep it separate from main storage eRacks/FLASH72 is configured with 2x 250GB Samsung 860 EVO SATA 6 Gb/s SSD as default mirrored OS volume with 2x fixed Solid state drives and it could be configured as single or mirrored volume with up to 4TB Samsung solid state drives. As optional High-reliability internal USB3 Flash Drives could be used instead of SSDs. Also, OS could be included on the primary volume in main array or first two drives in main storage array.
2.5" Hot-Swappable Storage Bays: For providing storage this system has 72 Hot-Swappable 2.5-inch Storage Drive Bays. So, as a result this system could support up to 1.11PB (72x 15.36TB) Solid State Drive storage into 72 Hot-Swappable drive Bays. As default storage 12 x Hot-Swappable 480GB Samsung Enterprise Class 2.5-inch SAS12 SSDs are included. And it is configurable with 12x /24x /48x /72x solid state storage drives with SAS 12 GB/s or SATA 6 GB/s or NVMe ~24 GB/s interfaces according to different use and performances.
System RAID Configurations: In order to providing Data safety, eRacks/Flash72's storage drives could be configured with different RAID level to protect against multiple disk failure. As default, storage drives are configured with RAID 10 with disk mirroring and striping for safety and performance.
Expansion Slots: This system has Multiple PCIe 3.0x16 or PCIe 3.0x8 low-profile expansion slots. Depending on configuration, those could provide additional PCI-e storage, network interfaces and system Graphics / VGA accelerations.
System Cooling: This system has 1x Air Shroud and it could support up to 7x hot-swappable redundant cooling fans to keep the system heat in check.
Power Supply: For powering, this system comes with 2560W (2x 1280W) Redundant Gold Level power supply with PMBus function.
Management:
IPMI

Remote management
Monitoring
Temperatiure control
Fan management
Event management
CPU Mionitoring
Chassis intrusion detection
---
Configure eRacks/FLASH72
Choose the desired options and click "Add to Cart". You may also request a quote, please add additional requests and information in the "Notes" field. Your quote request will be sent to your profile's eMail if you are logged in, otherwise enter the email address below (required only if not logged in).
Current Configuration
Base Price: $ 19985.00
As Configured: $ 19985.00
Configuration Summary:
Default Configuration