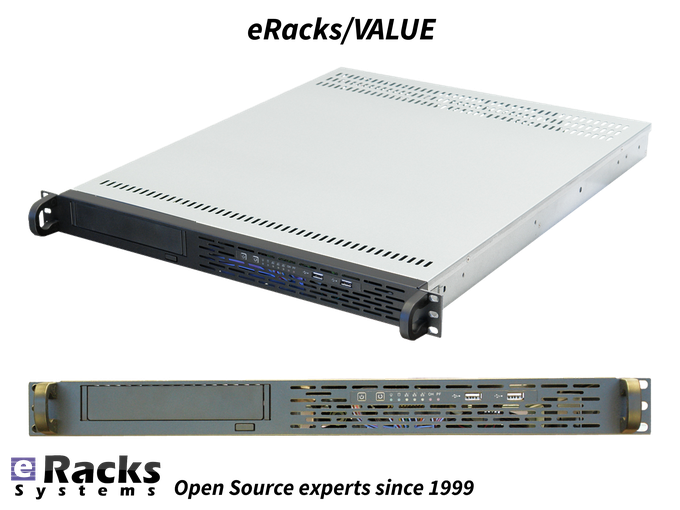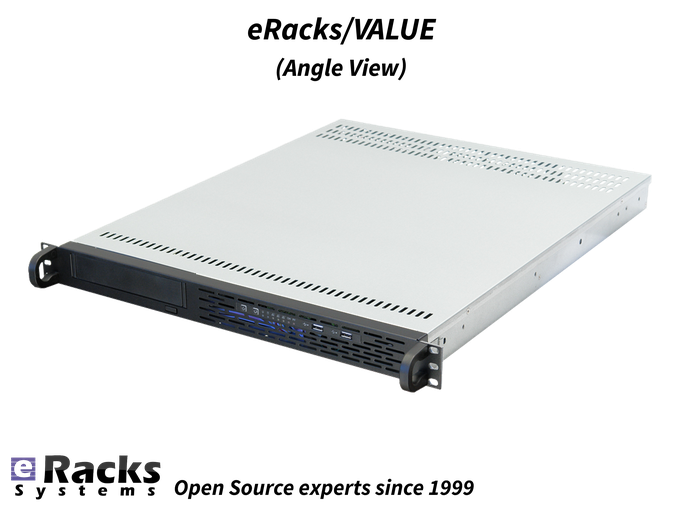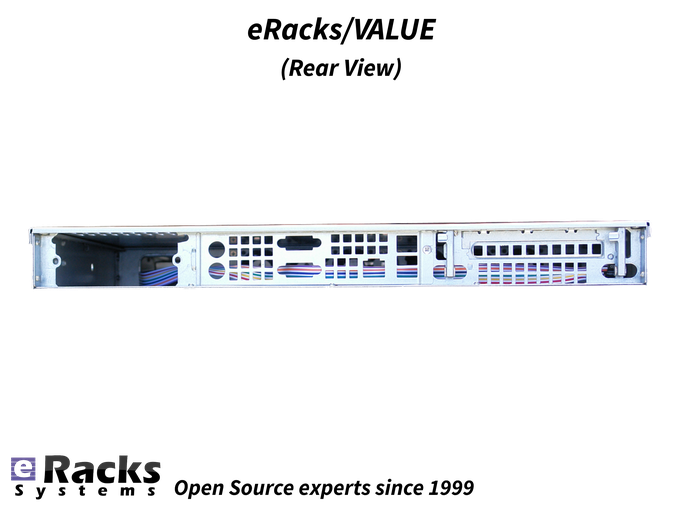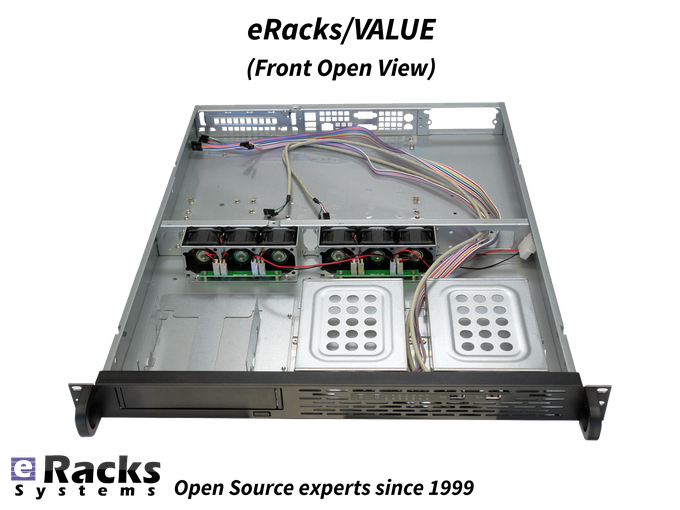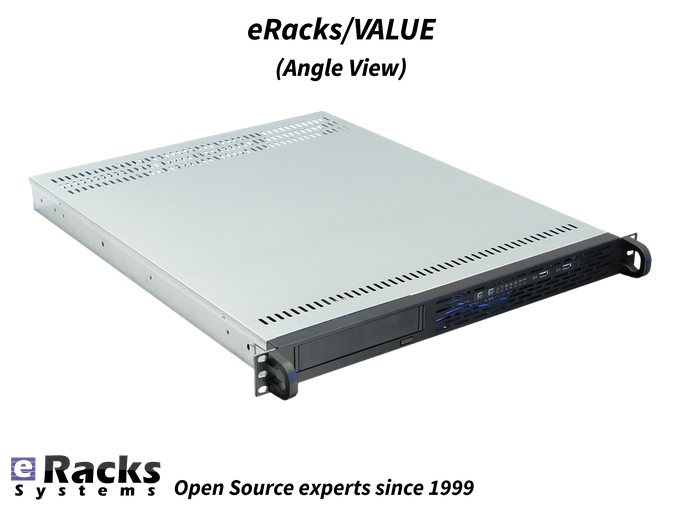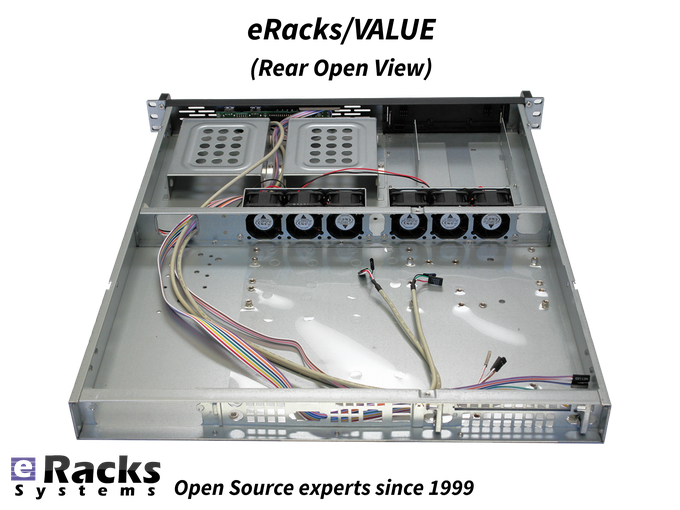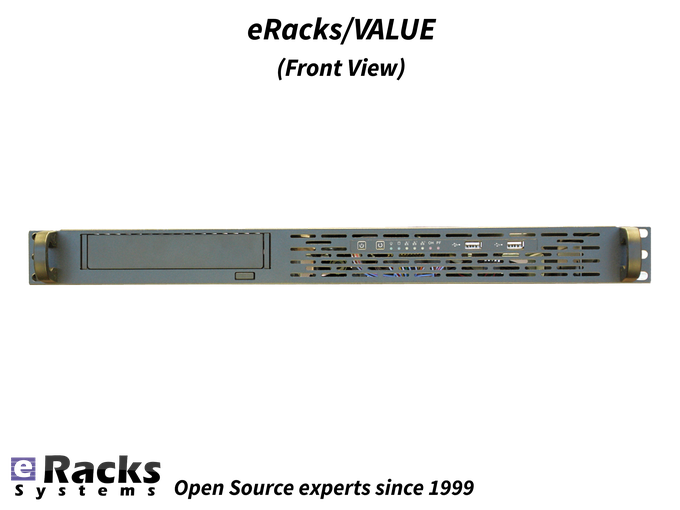 eRacks/VALUE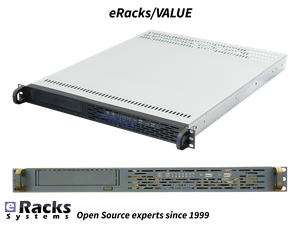 The eRacks/VALUE Server is our entry-level server - an affordable and reliable solution for the value-minded purchaser, ideal for both general home and office applications, as well as colocation and server-rack applications, such as the Networking Closet.
Our eRacks/VALUE Server is ideal for 24x7 use as a web server, print server, application server, a database, file server, or network / Internet server. An excellent choice for home use or hosted in our colocation facilities.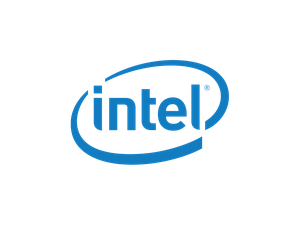 eRacks offers general purpose rackmount servers, configured with your choice of operating system, including Ubuntu Linux®, Debian, CentOS, Fedora, Red Hat® Linux, Arch Linux, FreeBSD, OpenBSD, openSUSE, NetBSD, and more! This is our primary 1U "Workhorse" x86 (64) server category.
The eRacks/VALUE is also a capable system in a colocation environment, as well, and can be configured with many additional options, including an M.2 or mSATA OS drive (by custom quote), optical drive (DVD/CD/BD), extra hard drives, SSDs, and more.
eRacks offers custom configurations, and your choice of specific components by special request. Email us today at info@eracks.com for more information. eRacks Systems also offers network consulting and open source migration services.
---
Features & Specifications
Chassis: 1U standard rackmount chassis 19″W x 1.75"H, and typically 21.5" deep - let us know if you have a depth constraint.
Motherboard: Form-factors include ATX, Micro ATX, Mini-ITX, others by custom quote
Power Supply: Standard 1U single power supply
Memory: Up to 64GB DDR4 RAM in 4 DIMM slots, up to 512GB RAM by custom quote
Drive Bay: Supports two 3.5″ drives and one 5.25″drive (M.2 or mSATA OS drive by custom quote)
Cooling Fan: 6 x 40mm mid-plane fans (Quietizing available - select in the dropdowns)
Weight: 6.5 kg/14.3 lb (NET) 7.5 kg/16.5 lb (GROSS).
---
Configure eRacks/VALUE
Choose the desired options and click "Add to Cart". You may also request a quote, please add additional requests and information in the "Notes" field. Your quote request will be sent to your profile's eMail if you are logged in, otherwise enter the email address below (required only if not logged in).
Current Configuration
Base Price: $ 795.00
As Configured: $ 795.00
Configuration Summary:
Default Configuration