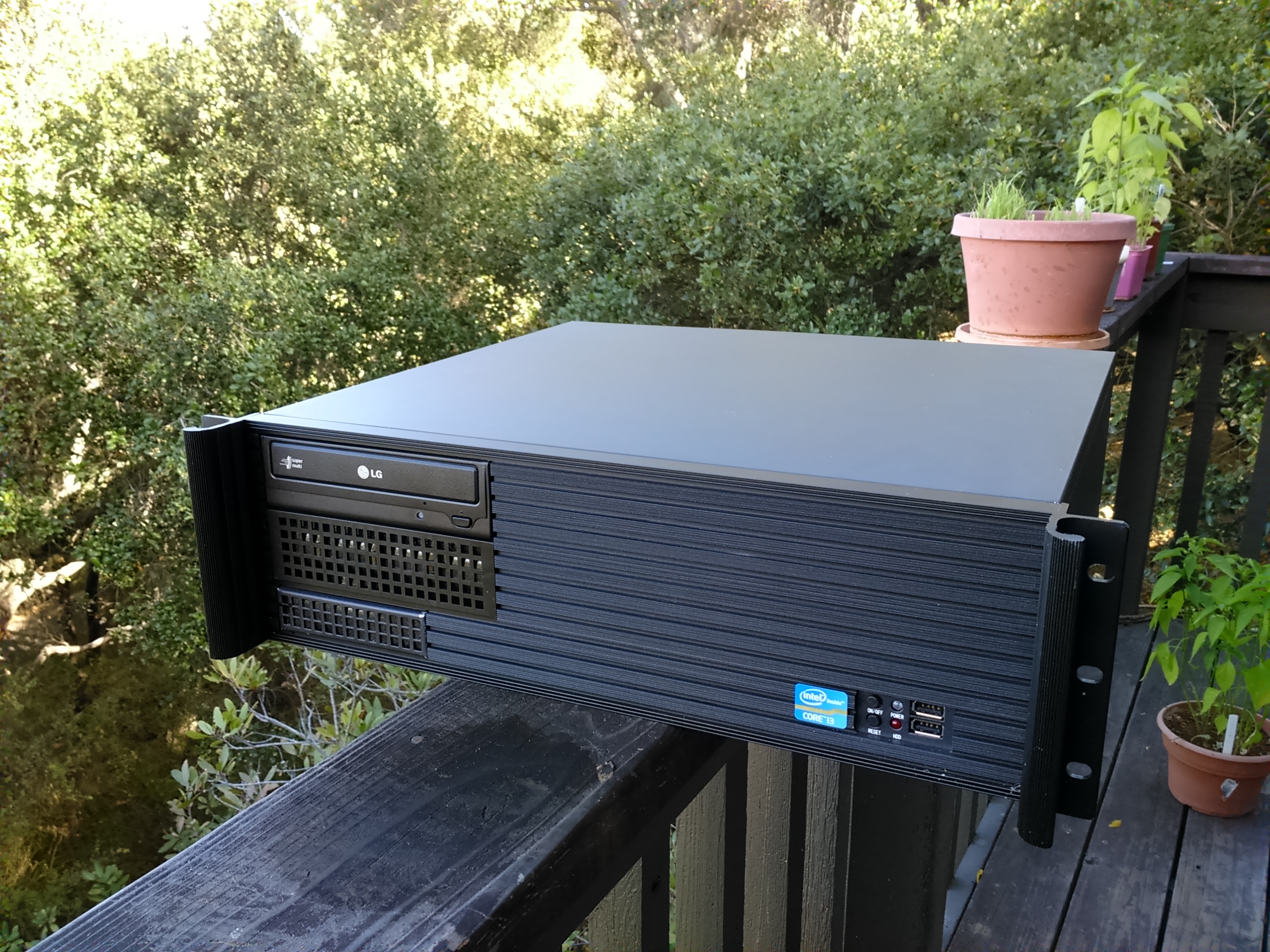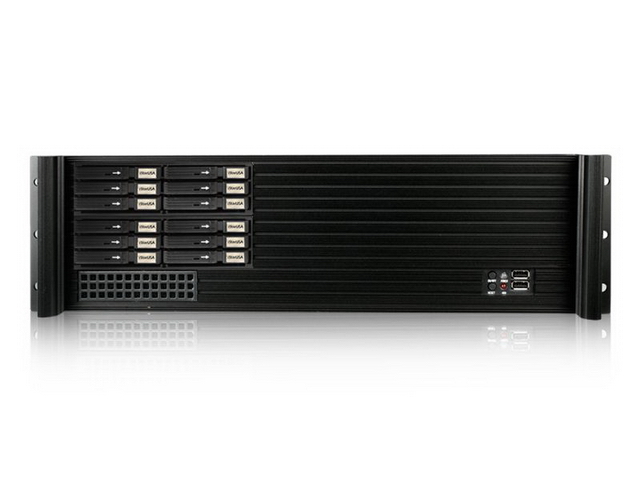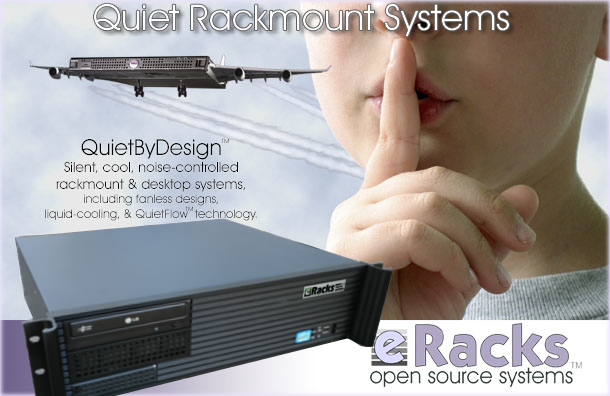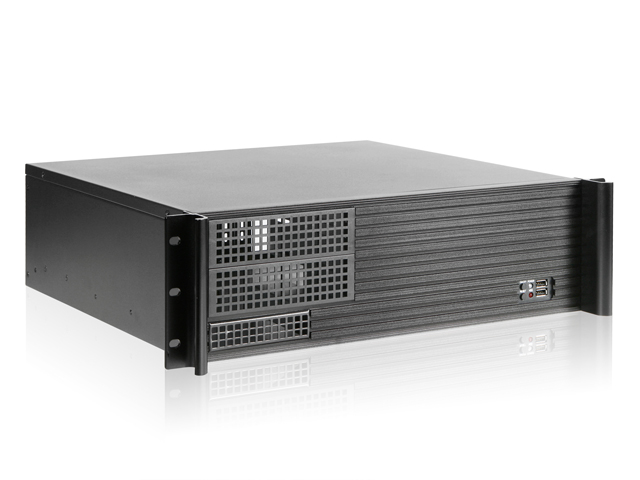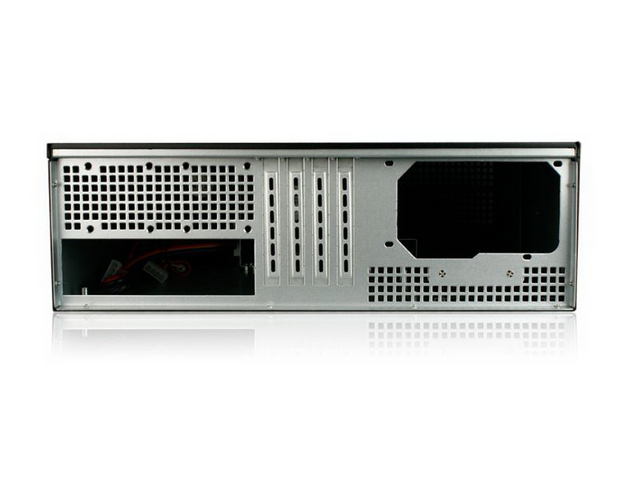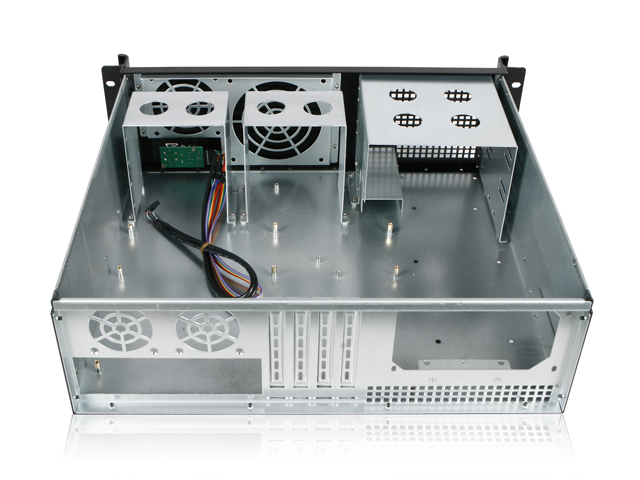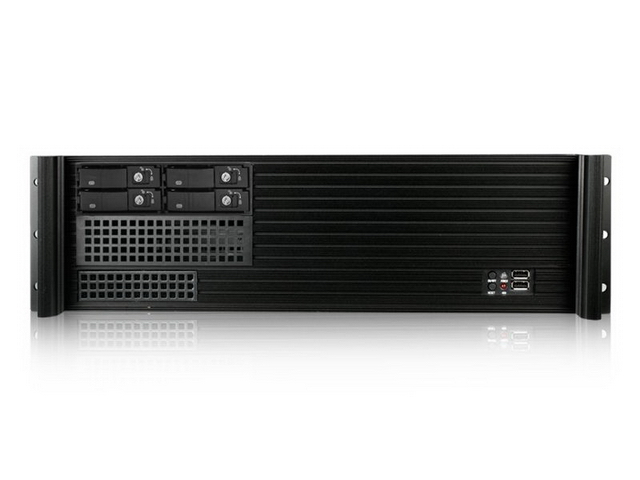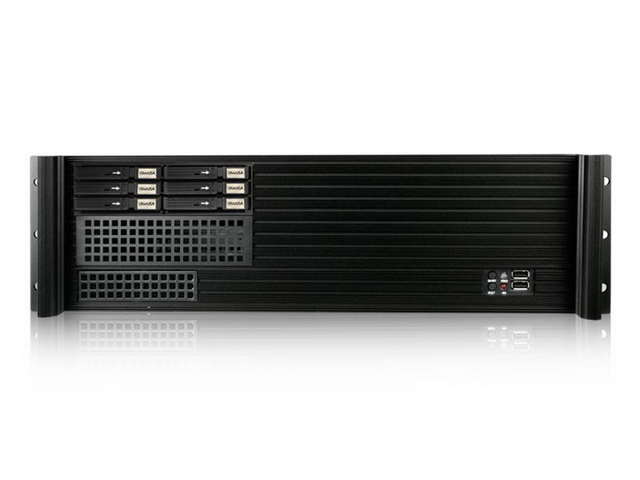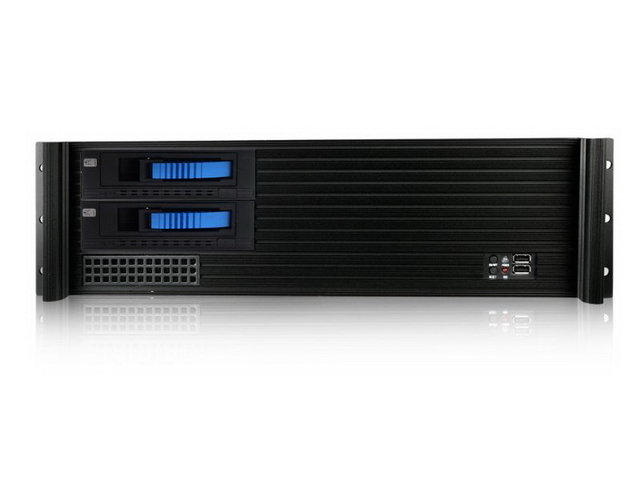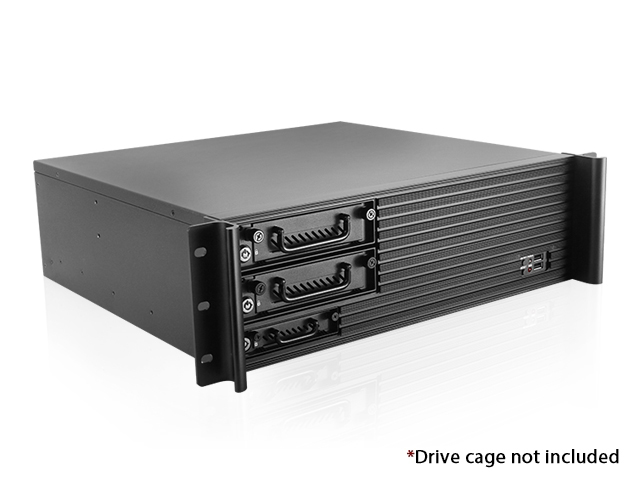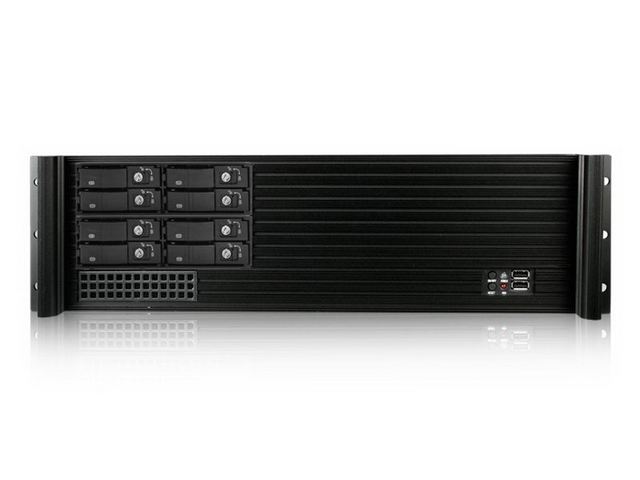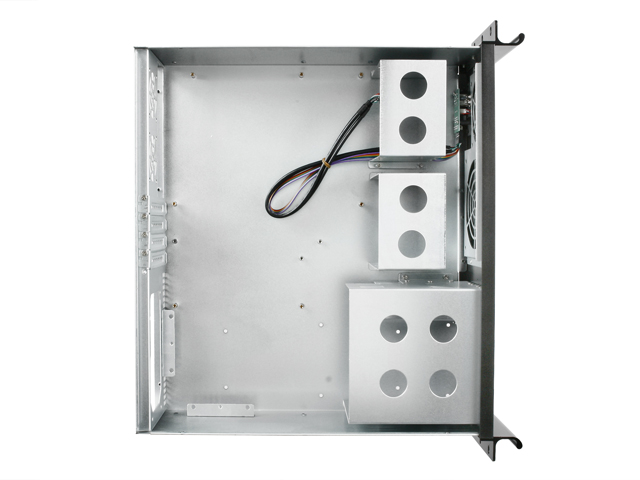 eRacks/QUIET3
This ultra-quiet 3U rackmount system is our most versatile member of our QUIET rackmount line.
Perfect for Broadcast, Studio, DAW, or any other noise-restricted environment, even simply a quiet office. This is the model we use internally as development workstations (coupled with a 4K monitor, it makes for an outstanding distraction-free focusing environment for our techs).
The usual test that we use for our quiet systems at eRacks is the "Is it on?" test.
If you're not sure if it's on (and without looking at or seeing the power LED), if you can't tell if the unit is powered on, then we've succeeded in meeting our QuietByDesign(tm) goals.
Overall, assuming the CPU is not under a heavy load so the automatic temperature sensor kicks in and raises the CPU fan speed, this model is typically about ~1db quieter than the eRacks/QUIET2 shown on the decibel meter in the video below.
The eRacks/QUIET3 is available in several internal configurations to support different numbers of 2.5", 3.5", hostswap, and (slim) optical drives - see photos for examples.
Up to four internal 3.5" SATA/SAS hard drives
Up to two external 5.25" drives / drive bays (removable options available)
Up to one external 3.5" SATA/SAS hard drive
Up to two external hot-swap 3.5" SATA/SAS hard drives (see photos)
Up to twelve external hot-swap 2.5" SATA/SAS hard drives / SSDs (1/4/6/8/12 cages - see photos)
Up to two internal M.2 SSDs or even an internal WifiCard (Requires upgraded DDR4 Motherboard)
Up to 32GB of DDR3/DDR4 memory, and 350W power supply (500W and 700W available).
Complete customization available, including operating system choice and any open source software packages installed and configured.
Monitor, keyboard and mouse are sold separately.
This model's base configuration price is $1495
---
Features & Specifications
The eRacks/QUIET3 system includes:
Form Factor: 3U Rackmount
Chassis: 19.00" x 5.25" x 16.86" (482.6 mm x 133.3 mm x 428.2 mm)
Chassis ROHS Compliant: Yes
Power Supply: 350W, 500W, or 700W Quiet and/or fanless PSU
Motherboard: MicroATX or Mini-ITX
Processor: Intel i3 / i5 / i7, Haswell & Xeon v3-capable (email us for custom configurations)
Drives: Two2 5.25" external bays, One 3.5" external bay, slim-CD capable, and up to 4 internal 3.5" SATA/SAS Hard Drives
Swappable drives: Bays can be configured in various ways for up to 2x hotswap 3.5" drives, or up to 12x hotswap 2.5" drives - removables can be 2/4/6/8/12 drives, see photos
Memory: DDR3 / DDR4, up to 32GB (More via custom quote / build - contact us)
PCI Slot: up to 4 Full-height PCI, up to 165mm deep with HDs installed
Video: Onboard Graphics Controller, multiple/2nd video cards available (email for custom configurations)
LAN: Onboard 10/100/1000 Gigabit Ethernet (Dual GbE and 10GbE Available, email us for custom configs)
SATA Express support: Available, for 10 Gb/s data transfer
Ports: Up to 8x USB ports, including USB3 support; Dual M.2 slots available for SSD Drive and WIFI card, 2 front USB
Audio: 6-channel HD Audio, up to 7.1ch HD Audio available
Video Outputs: VGA, HDMI & DVI-D Available
OS: Ubuntu Linux operating system installed as default, any OS available (email for custom configurations)
PCI slot Options: Additional network connectivity, up to 2x additional graphics cards, High-end HD audio, and more - email us with your custom config request.
---
Configure eRacks/QUIET3
Choose the desired options and click "Add to Cart". You may also request a quote, please add additional requests and information in the "Notes" field. Your quote request will be sent to your profile's eMail if you are logged in, otherwise enter the email address below (required only if not logged in).
Current Configuration
Base Price: $ 1495.00
As Configured: $ 1495.00
Configuration Summary:
Default Configuration