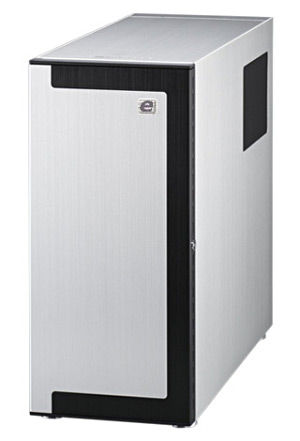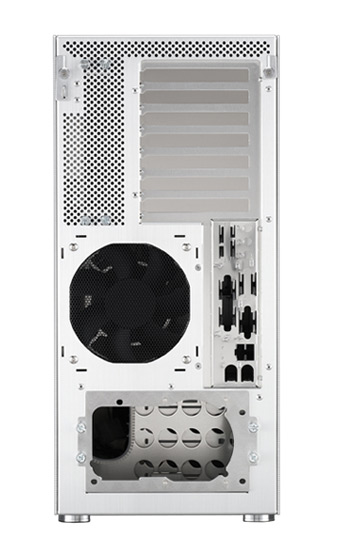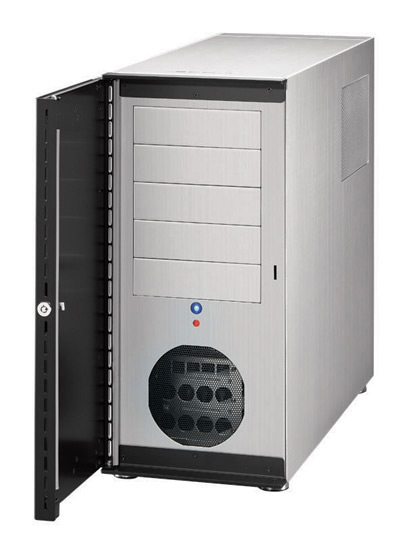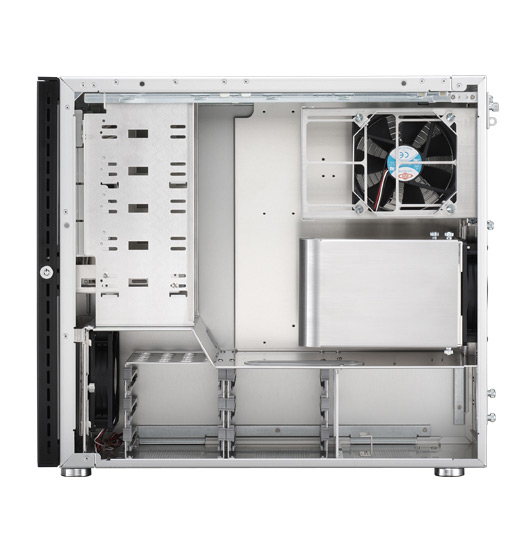 eRacks/SILENCE
This high-performance brushed-aluminum system is designed to minimize machine noise.
"Is it on?" Is our favorite test.
The door has a rubber gasket around it and there is sound-deadening foam in the inside of the top and side. Our sound measurements of a running system were 31.5 - 32.5 dB at a baseline of 28 - 30 dB. Now standard with completely silent SSDs. NVMe drives also available.
Note: Video and audio options not seen in the dropdowns are available by custom quote. Typically the default motherboard has audio/video onboard. Upgraded options may not have onboard video/audio, and may requuire separate components.
Many desktop configurations and software installation options are available - see Software dropdown choices, and ask if you wnat something not listed:
- Desktop environments: KDE, LXDE, Cinnamon, Mate, Enlightenment, more
- Ubuntu DDE - Ubuntu 20.04 + Deepin - NEW for 2020!
- Studio / Audio / Video-focused distros: UbuntuStudio, KX-Studio, CCRMA, others
- Bitwig Studio available by custom quote!
- Game engines: Steam, Unity
- Many other software engines available for preinstallation - Unity Game Engine, Kivy Mobile build platform, TDA thinkorswim, you name it - just put it in the "Notes" field when you place your order and we'll do it for you, and we'll ask you about the details you want.
Old, but still available:

Zimbra Desktop
The configuration of the default system includes:
Chassis: Aluminum 18.11in(H) x 8.27in(W) x 20.67in(D) with door.
Motherboard:Intel i3/i5/i7 motherboard, Intel Extreme (Or AMD Ryzen!) available by custom quote
Processor:Intel i3/i5/i7, Intel Extreme (Or AMD Ryzen!) available via custom quote
Drives: DVDRW SATA, Floppy, & SATA6 Hard Drive(s) or SSDs
Memory: DDR3 / DDR4DIMM x4, up to 256GB max memory
Audio: Onboard High Definition Audio
Video: Onboard Graphics Controller
USB: 3.x
LAN: Integrated Gigabit Ethernet
OS: Installed Linux Mint or Ubuntu Linux® operating system as default.
PCI slot Options: Additional network connectivity, GPUs, PCI Flash storage, Broadcast / digital TV / Video / Tuner & FM Radio specialty cards, and more. Please specify any custom requests.
This configuration's price is $1485.
---
Configure eRacks/SILENCE
Choose the desired options and click "Add to Cart". You may also request a quote, please add additional requests and information in the "Notes" field. Your quote request will be sent to your profile's eMail if you are logged in, otherwise enter the email address below (required only if not logged in).
Current Configuration
Base Price: $ 1485.00
As Configured: $ 1485.00
Configuration Summary:
Default Configuration