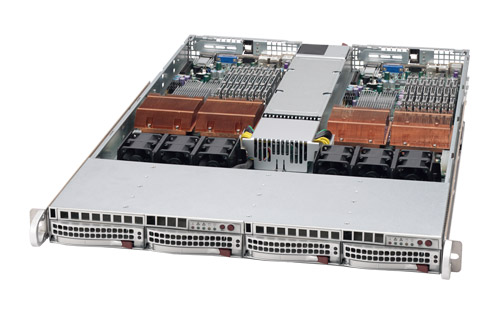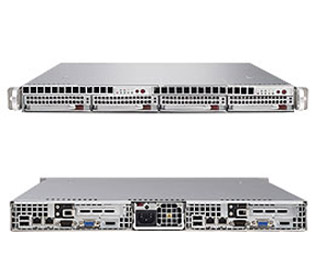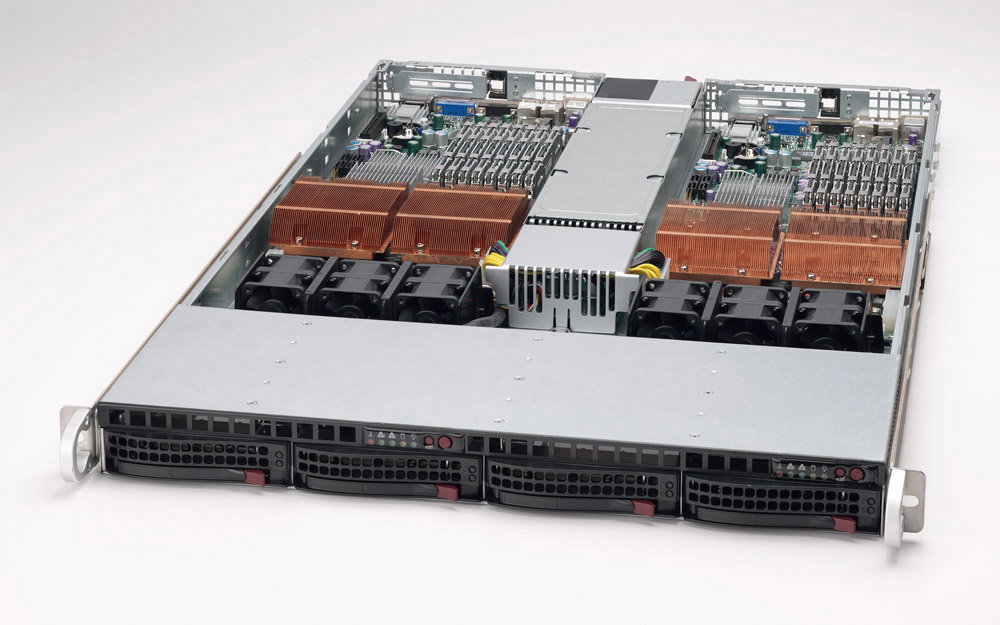 eRacks/TWINSERVE

This system is based on the Supermicro Two-node 1U server product line.
The eRacks/TWINSERVE is a 1U, 27.75 inch (705mm) depth rackmount chassis, containing twin DP server nodes. Inside are two identical motherboards, each supporting muti-core Intel® Xeon® Processors.
Each node supports up to two SATA drives, and up to 512GB DDR3 ECC memory. The eRacks/TWINSERVE also has two GbEthernet interfaces per motherboard. This server is ideal for increasing computing density in clusters, while minimizing energy consumption. The two nodes share a single 93% extreme high-efficiency power supply.
The standard hardware configuration includes:
·1U-height Chassis, 900/980W High-efficiency Power Supply
·2x Hot-swap SATA Hard Drives (1 per node; capacity of 2 HD per node)
·2x Multi-Core Intel® Xeon® motherboards
·Onboard Dual-port Gigabit Ethernet, each node
·Onboard graphics controller each node
·2x Intel Xeon multi-core CPUs (1 per node)
·8x 240-pin DIMMs per node, DDR3/DDR4 ECC FB-DIMM Memory (Fully Buffered DIMM) up to 512GB
·1x PCI-Express Slot per node
·IPMI option
A fully redundant failover firewall, the eRacks/TWINGUARD is also available.
Configure the eRacks/TWINSERVE with four Quad-Core Intel Xeon 5300 series CPUs, to achieve a 16-processor core computing density in only a 1U space.
This system is compatible with hardware virtualization. Contact eRacks if you'd like help in software configuration.
---
Configure eRacks/TWINSERVE
Choose the desired options and click "Add to Cart". You may also request a quote, please add additional requests and information in the "Notes" field. Your quote request will be sent to your profile's eMail if you are logged in, otherwise enter the email address below (required only if not logged in).
Current Configuration
Base Price: $ 2995.00
As Configured: $ 2995.00
Configuration Summary:
Default Configuration