Sep 24, 2010 - eRacks presents the OPT4100 AMD low energy, high power, affordable server.
eRacks presents the OPT4100 AMD low energy, high power, affordable server.
eRacks introduces a server line based on the new 4100 series Opteron processors. These servers are the lowest cost per core in the industry. Available in full linux/BSD compatible setups, and with any option you can imagine.
Orange, CA (September 24, 2010)-- eRacks Open Source Systems announces the eRacks/OPT4100, an Opteron 4100 series ('Lisbon') - based rackmount server, combining power, cost-effectiveness and efficiency. With options starting at $1229.00, it's an ideal solution for those who seek considerable computational power in today's tough economy.
The single 4100 CPU has either 4 or 6 cores per processor, which AMD brands as the "world's lowest power per core server processor." At 6 watts per core, twice as many servers can be implemented within the same power budget than the previous generation of processors. True to the spirit of AMD's latest offering, the eRacks/OPT4100 is power-optimized and affordable, providing unparalleled performance at a bargain.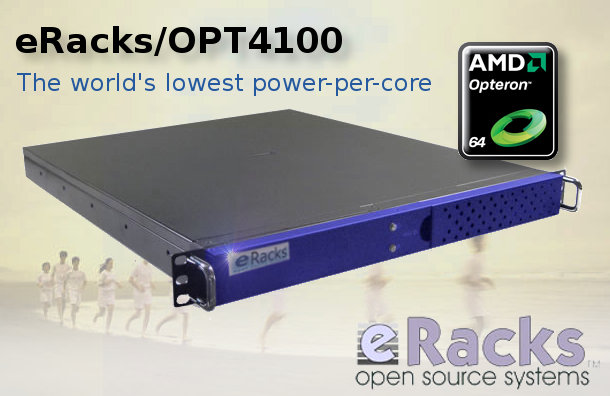 The eRacks/OPT4100 makes an ideal solution for scalable infrastructure servers including firewalls, web, mail, DNS or database servers, as well as for render farms, small clusters, social networking servers, and video streaming systems. On the low end, eRacks offers a quad-core Opteron 4122 clocked at 2.2 GHz with 4GB of RAM and a 250GB SATA 2 hard drive. For those with high-power requirements, consider the eRacks/ the hexa-core Opteron 4184 clocked at a whopping 2.8 GHz with 32GB or RAM and two 2TB SATA 2 hard drives.
eRacks installs quality, free and open source software on its systems *by default*, making a great deal even better. OS configuration is included with server purchase, and the choices include Ubuntu Linux, Red Hat(tm) or Fedora Linux, *BSD, and Sun's OpenSolaris, and more. eRacks will also install custom software on request. For more information, visit the eRacks website: http://eracks.com/products/amd-systems/OPT4200 or call (714) 532-5322. eRacks builds custom rackmount servers to order, and offers educational and bulk discounts.
About eRacks Open Source Systems
eRacks Open Source Systems features its own line of rackmount servers, desktops, and laptops and offers a wide array of services including open source enterprise migration, security, and network architecture services.
Mission:
eRacks Open Source Systems strives to return the control of the IT department back to the business owner, by providing quality open source enterprise-level applications on easily-upgradable industry-standard hardware. eRacks believes businesses should not be required to rely on third-party closed-source software vendors.
It's all about independence. Being your own leader. Working toward your own goals. Enjoying freedom of access, ability to customize, while remaining independent of restrictions, licenses, and vendor lock-in. That's why eRacks believes the future lies in Open Source software.