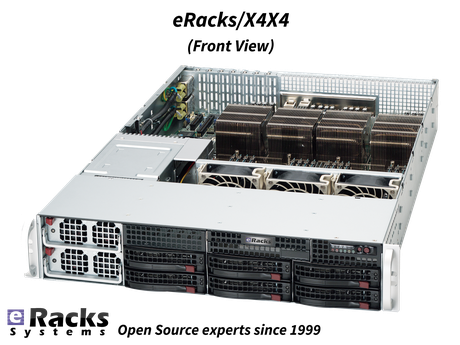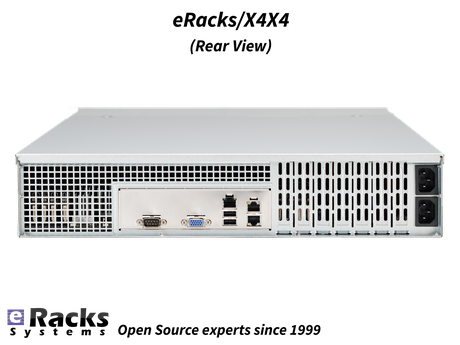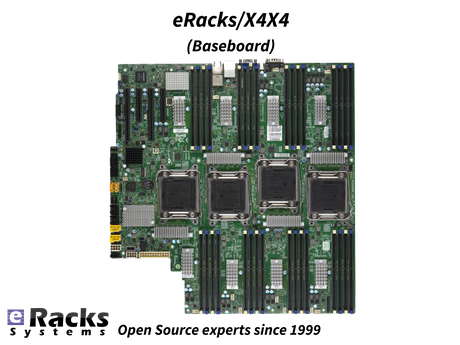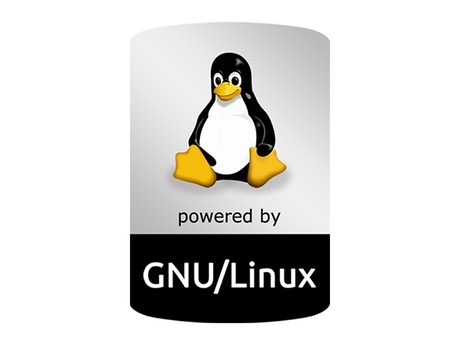 eRacks/X4X4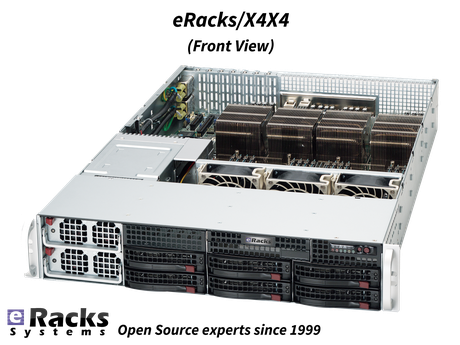 Get the best in performance and stability with the eRacks/X4X4 Enterprise server that meets your workload and demands. eRacks/X4X4 enterprise servers give you the best hardware components and Open source tools that you need to innovate and accelerate your business.
The eRacks/X4X4 is powered by quad-class multi E7-8800 v4/v3 processors, that support up to 96 core (4x 24 core) processing units. The system has up to 4TB of memory limit with high-frequency DDR4 ECC/REG memory stick in 32 DIMM slots.

The 2U chassis with 6x 3.5-inch hot-swap bays provides flexibility for up to 72TB of raw storage or 36TB of RAID10 array with 6x read and 3x write speed, which is gives the best performance for virtualization environments. For better storage flexibility, Optional 1 x 3.5" internal fixed drive bay, Optional 1 x slim DVD-ROM drive bay is provided with this system for keep the OS independent from the storage array.
Dual LAN with Intel® i350 Gigabit Ethernet Controller, Single LAN with Virtual Machine Device Queues reduce I/O overhead, Single LAN with Supports 10Base-T, 100BASE-TX, and 1000BASE-T, RJ45 output, Single LAN with Realtek RTL8211E PHY (dedicated IPMI) this system gives you the best network connectivity and management options.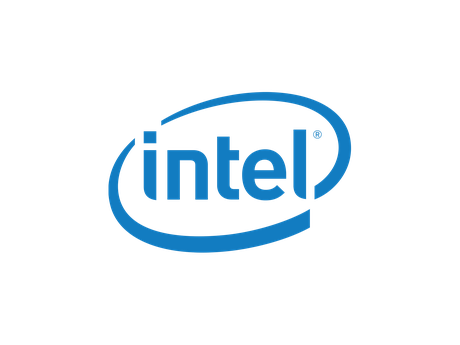 While this system giving you all these excellent performances, it keeps the power usage at its' minimum with eRacks/1200w or eRacks/1400w power supply. That makes this system truly industry friendly and "Green Solution" for your enterprise.
No system could provide the best performance and protection against the disaster unless that is configured correctly. Keep that in mind eRacks System offers pre configurations according to your business demands and requirements including virtualization.
For your desire system please contact us or simply write in your request in the Notes field of your order. For orders with over 128GB memory, please call for special pricing. Other chassis / motherboard / processor configurations are possible. Email or call eRacks for a custom quote.
---
Features & Specifications
Chassis: 2U Rackmount with 6 Removal hard drive bays.
Power Supply: 1400W/1600W Redundant Platinum Level (95%) Digital PS.
Motherboard: eracks certified Quad-Intel Xeon Motherboard.
Processors: Quad socket R1 (LGA 2011) supports Intel® Xeon® processor E7-8800 or E7-4800 v4/v3 family (up to 96-Core)
Memory: Up to 4TB DDR4 (128GB 3DS LRDIMM) in 32x DIMM slots.
PCI-e Slots: 2x PCI-E 3.0 x16 Low-profile slot; 2x PCI-E 3.0 x8 Low-profile slot
LAN Ports: Intel® i350 Dual port GbE LAN 2x GbE LAN, 1x Dedicated LAN for IPMI Remote Management.
I/O Ports: 1x VGA, 1x COM port, 3x USB 2.0.
Hard Drive Bays: 6x 3.5" Hot-swap SATA Drive Bays, Optional 1 x 3.5" internal fixed drive bay and 1 x slim DVD-ROM drive bay.
System Cooling: 3x 8cm Heavy Duty fans w/ speed control.
---
Configure eRacks/X4X4
Choose the desired options and click "Add to Cart". You may also request a quote, please add additional requests and information in the "Notes" field. Your quote request will be sent to your profile's eMail if you are logged in, otherwise enter the email address below (required only if not logged in).
Current Configuration
Base Price: $ 9295.00
As Configured: $ 9295.00
Configuration Summary:
Default Configuration