Aug 25, 2011 - eRacks Releases AMD Fusion A-Series Desktop and Rackmount Computer Models
Press Release
eRacks Releases AMD Fusion A-Series Desktop and Rackmount Computer Models.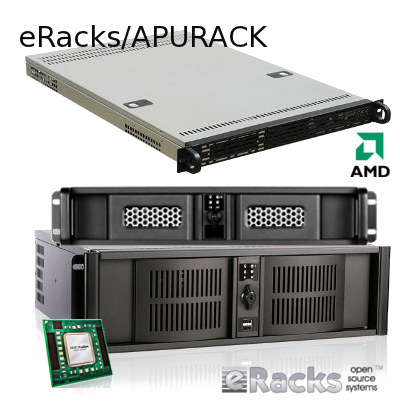 Orange, CA (Aug 25, 2011) -- Via
PRWEB
,
Yahoo News
,
Daily Finance
eRacks is pleased to announce its latest computer models utilizing the new AMD Fusion A-Series Accelerated Processing Unit (APU), in both a desktop format, the eRacks/ASERIES, and a rackmount system, the eRacks/APURACK. The new Llano A-series CPU and GPU combine four x86 CPU cores with powerful discrete-level graphics on a single chip.
The hybrid APU is a completely new paradigm, designed especially for vivid graphics, smooth and clear videos, and responsive multitasking. Ideal for small form factor solutions, the new A6 and A8 processors offer unparalleled performance in their class. With OpenCL support, the graphics cores can be programmed for general purpose computing in addition to the CPU cores. Many of the functions that once required a separate video card are now taken care of by the APU, simultaneously saving power, space and money.
"The eRacks/ASERIES is our top choice for a graphics-intensive gaming and multimedia desktop," states eRacks' Operations Manager, Max Haskvitz. All eRacks' desktop and rackmount servers are configured with the customer's choice of operating system, and are designed to be expandable and upgradeable.
About eRacks Open Source Systems: eRacks has been on the forefront of technology for over ten years, and has ensured that the latest in technology is available to the open source community. eRacks also builds custom systems, including specially designed 'quietized' rackmount and desktop computers, and offers educational and quantity discounts.
For more information, visit the eRacks website at www.eracks.com or phone +1 714 532 5322.