Rackmount Servers
The Basics
Rackmount servers, or rack-mounted servers are a standard 19 inches (480 mm) wide and fit in a rack shelf. These computer systems resemble a similar shape to a pizza box and can also called rack-mount server or system, a rack mounted system, a rack mount chassis, subrack, rack mountable computer, etc...



A typical 1U eRacks rackmount server, albeit vintage 2003 or so
Standard Measurements
| | | | |
| --- | --- | --- | --- |
| | Height | Actual height | Width |
| 1U | 1.75 inch (44.5 mm) | 1.719 inches (43.7 mm) | 19 inches (480 mm) |
| 2U | 3.50 inch (88.9 mm) | 3.469 inches (88.1 mm) | 19 inches (480 mm) |
| 3U | 5.25 inch (133.4 mm) | 5.219 inches (132.6 mm) | 19 inches (480 mm) |
| 4U | 7.00 inch (177.8 mm) | 6.969 inches (177.0 mm) | 19 inches (480 mm) |
| 5U | 8.75 inch (222.3 mm) | 8.719 inches (221.5 mm) | 19 inches (480 mm) |
Standard Measurements
The standard height for rackmount chassis is the number of 'U's multiplied by 1.75 inches. The U refers to Unit or Rack Unit, and is sometimes abbreviated RU.
There is a small amount of space allowed between systems when mounted on the rackshelf, so that the actual measured height of a rack unit is the number of Us minus 1/32 inch (= 0.031 inch) space between systems.
Mounting Hardware
Rackmount systems can be simply bolted to the rack-shelf at the front panel, or for heavier systems, rear/center brackets can add additional support.
Rackmount servers can also be attached to the rack shelf using sliding rails to allow the system to move similarly to a drawer. This is useful for repair/upgrade purposes, when the top of the chassis must be removed.
Note the depth of the rack shelf unit as well as the rackmount system, when planning installation. Rack shelf depth is not standard, although depths of 39.4 inches (1,000 mm) is becoming more common in larger installations. At the widest shelf depth, some servers can be mounted both in the front and back.
Most audio rack-shelves are shallower than general computer rack-shelves, and are in the range of 15 - 21 inch depth. It is sometimes possible to mount a system that hangs out the back of a rack-shelf, but not of course, for the closed shelf units. eRacks has shallow-depth chassis available for audio rack shelves, including the eRacks/SHORT and the eRacks/LITE .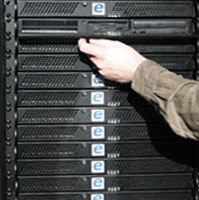 Standard Standards
Note that some vendors purposely build non-standard rackmount servers, cabinets, mounting hardware and equipment, requiring the purchaser to buy the rack-shelf and/or mounting kits from same vendor. This is a vendor lock-in business strategy that eRacks has always strongly opposed.
eRacks' systems are all industry-standard, as well as the components within each system. No non-standard rack-mounting equipment is required.
If you have specific questions, please call or email eRacks. We're happy to quote a price on a custom system. eRacks also has various services available, including additional configuration, software and infrastructure consulting, network design and assessment, and hosting.