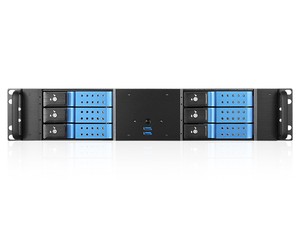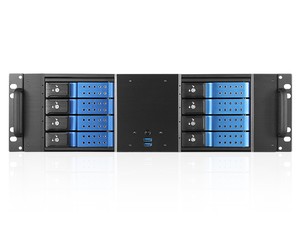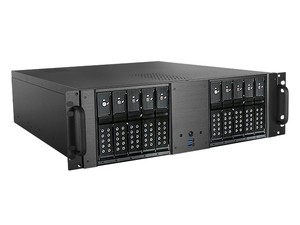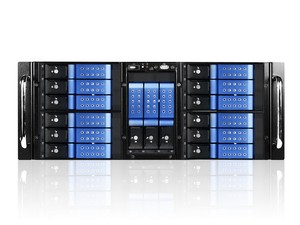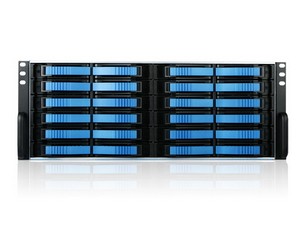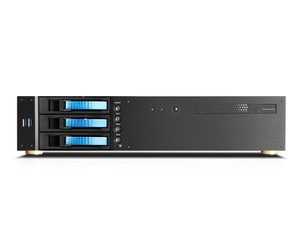 eRacks/NVR
eRacks/NVR stands for Network Video Recorder which is a specialized hardware and software solution used in the IP video surveillance systems. This system records and store video footage directly from the network it lives on for the purpose of their storage and subsequent playback. They work with an advanced type of camera, called IP cameras. IP cameras can actually capture and process video and audio data themselves by using either an ethernet cable or wirelessly via an existing Wi-Fi network. The eRacks/NVR does not contain any special equipment for capturing video because it receives the video streams already encoded by the IP cameras in a digital format. To support the expanded set of features and user-friendliness, the eRacks/NVR uses standard computers with standard operating systems.
eRacks/NVR systems process the video data at the camera rather than on the recorder by using IP cameras which are standalone image capturing devices. IP cameras have a chipset which processes the video data which is then transmitted to a recorder. It is capable of recording and sending audio as well as video. The more powerful hardware on IP cameras also enables improved smart functionality and video analytics, such as facial recognition. NVR systems connect the camera to the recorder, but this is done using standard Ethernet cables, such as cat5e and cat6, to transmit data. eRacks/NVR recorders are only used for storing and viewing the footage.
eRacks/NVR systems are inherently more flexible because security cameras don't necessarily have to be physically connected directly to the recorder. Instead, IP cameras only have to be on the same network. The video quality is also better as eRacks/NVR recorders receive a pure digital signal from the cameras. All cameras with microphones can record audio to the eRacks/NVR because Ethernet cables carry audio. eRacks/NVR systems tend to have better picture quality, as well as easier installation, are reliable, stable, provide increased flexibility, have a user-friendly interface for day-to-day use, and native support for audio on every camera that has a microphone. However, NVR systems also tend to be quite a bit more expensive which is a huge constraint for budget conscious people.
---
Features & Specifications
Chassis: Support 3,6,8,10,15 & 24 RHDD in 2U,3U & 4U Chassis.
Processor: Support from 'Intel® Core™ i5' to 'Dual Intel® Xeon Gold'
Motherboard: eRacks certified NVR Motherboard According to CPU selection.
Memory: Non-ECC to Up to 2TB ECC DDR4 RAM in 16 slots.
Storage Drives:

Support Up to 432TB (24x 18TB)

Surveillance Hard Drives.

PCI: Support Up to 4x 10GbE Network Ports
Operating System: Default Ubuntu Linux 20.04 LTS Desktop Edition
Support Up to 40 Wireless IP Cameras in 5x 8-Channel
NVR Software: NVR Open Source Projects for the best performances.
---
Configure eRacks/NVR
Choose the desired options and click "Add to Cart". You may also request a quote, please add additional requests and information in the "Notes" field. Your quote request will be sent to your profile's eMail if you are logged in, otherwise enter the email address below (required only if not logged in).
Current Configuration
Base Price: $ 0.00
As Configured: $ 0.00
Configuration Summary:
Default Configuration