July 31, 2015 - eRacks 288TB NAS36 under $25K
eRacks Systems Announces NAS36 Upgrade To 288 Terabytes Data Storage Space Priced at Below $25,000
PRWeb - July 31, 2015 - HAYWARD, Calif. -- PDF
eRacks Systems, a leading nation-wide high capacity storage solution provider and a frontier in cloud based petascale storage servers based in Silicon Valley, California announced today that it has upgraded its already high-capacity eRacks/NAS36 storage server models to provide for 288 Terabytes of data storage capacity having thirty-six 8 Terabyte Seagate Archive drives. The NAS36 will be available at a break-through price of under $25,000 making it highly affordable for enterprises of any size that require petascale volumes of data storage.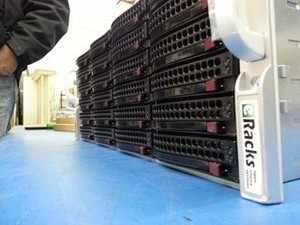 eRacks Newly upgraded eRacks/NAS36 storage units are rack-mount servers uniquely designed to encompass thirty-six 8TB Seagate Archive Drives while they require minimum of space on a standard data center rack. The drives are mounted on a single backplane on the 4U unit and are controlled by a RAID controller handling up to 36 drives. The unit places 24 hotswap drives in front and 12 in the back considerably reducing the total space required for the server (only 4Us) leaving plenty of space for accompanying and necessary accessories on the rack.
The high capacity Seagate Archive Drives feature SMR (Shingled Magnetic Recording) technology, making eRacks NAS36 storage system servers to be unequivocally reliable and efficient, yet achieving a new low in price/TB. Price-tagged at under $25,000 the 4U unit is the most valuable and cost-effective solution available to eRacks customers looking for a reliable high-volume storage server.
Available immediately at this affordable price, the NAS36 Seagate Drive Archive Storage Server is best utilized for Cloud Storage and Near-Line Storage for companies and enterprises requiring petascale online storage capacities, with an archival use-case. The server is configurable for cloud or NAS (Network Attached Storage) applications and is available with any variety of cloud, SDS (Software Defined Storage), or NAS software. NAS36 servers are also suitable for Private Cloud and Hybrid Cloud architectures as well and also provide a high quality solution for media-rich content library applications.
"Once again, we are proud to lead the pack in bringing a new breakthru price-point to the market in lowest cost-per-petabyte - and helping champion the use of the new archival-storage SMR drives to both NLS and Cloud storage applications" - JJW, eRacks
eRacks Systems will pre-install any open source Cloud, NAS, or storage software on the NAS36 server according to its customers preference and needs before delivering the unit. All open-source cloud software such as OpenStack, CloudStack, Eucalyptus, OpenNebula, ProxMox are supported. eRacks Systems is committed to open-source systems and can preinstall storage and SDS software such as Ceph, GlusterFS, MooseFS, and LizardFs to facilitate larger architectural or cloud infrastructure integrations.
eRacks Systems was founded in 1999 by system architects and network design consultants. The company is well known as a go-to-source provider for open source enterprise-class petascale storage solutions. eRacks customers can contact the company for any unique customization requirements and pre-orders. eRacks Systems specializes in providing customized rack-mount and desktop systems to customers.
The company has offices in Hayward and Los Gatos, California. Customers can contact eRacks Systems by email at info(at)eracks(dot)com or via the Contact page on the company's website, https://eracks.com where additional information is also available on the eRacks/NAS36 and other petascale solutions provided by the company.
Contact Information

eRacks Open Source Systems
---
eRacks Open Source Systems
http://www.eRacks.com
eMail: info@eracks.com