Dec 21, 2016 - eRacks Raises the SSD Storage Bar with the 190TB All-Flash eRacks/FLASH48 Server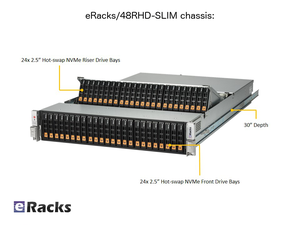 eRacks Raises the SSD Storage Bar with the 190TB All-Flash eRacks/FLASH48 Server
Hayward, CA, (December 6, 2016) - eRacks Systems announces its new eRacks/FLASH48 server, now the largest of eRacks' all-flash line of storage servers, which are setting new benchmarks when it comes to density and performance.
The new eRacks/FLASH48, with 48 2.5" SSDs, is available in either a 4U SATA-based form-factor, or the slimmer 2U NVMe-based form factor.
Both are optimized for high-performance rackmount / colocation environments, and can be optimized further for write-intensive or read-intensive deployments, with the appropriate SSD components.
eRacks is a Samsung Enterprise Partner, and as such, has access to the Enterprise series of Samsung flash drive components which are optimized for read or write-heavy environments.
The FLASH48 all-flash storage server from eRacks is designed to be on the forefront of computing technology, setting a new standard for density and performance -
Ideal for blisteringly fast private or hybrid cloud hosting servers, Internet servers, SDS (Software-Defined Storage) servers, Virtual SAN-Ready Node apps, distributed or cluster storage, and any data-intensive workloads requiring fast data access. FLASH48 has been designed and created to offer superlative performance, scalability and density, which can go beyond simply meeting the needs for critical "Tier One" apps for any mission.
The eRacks/FLASH48 is available in a wide variety of configurations – The chassis / form factor is available in a 2U-Slim, or a full 4U config, and either NVMe or SATA respectively. Customers should request a quote with their desired optimal configuration to get all the necessary details. This storage server solution is optimized for racks, and targets cloud-scale, SMB, data center, colocation, and enterprise environments.
"The new eRacks/FLASH48 rackmount server truly raises the bar for all-flash enterprise-class storage, and computational performance as well – and has miserly low power consumption and is also very 'Green' to boot, so to speak" quips Joseph Wolff, CTO and Founder of eRacks.
As always, the eRacks/FLASH48 server is pre-configured with the best-of-breed and newest Open Source software that customers need. Despite working with regular SATA and SAS SSD storage, it offers a much better performance than conventional Flash servers do. Customers can choose Ceph, OpenStack ZFS, FreeNAS, or any Big Data or open source storage software, including SDS (Software-Defined Storage) options, in addition to a Linux or BSD OS such as Ubuntu OS, OpenBSD for security, or FreeBSD / FreeNAS. Customers are also encouraged to request their own custom Open Source software stack, when requesting a quote, or work with the experts at eRacks to determine their needs on a consulting basis.
In addition to Open-Source solutions and All-SSD Storage, the company also offers managed services, and consulting for provisioning, custom installations, system and network architecture, and more.
About eRacks open Source Systems
Based in California, eRacks Systems is a leading open source solutions company. It has been offering system architecture and network services, DevOps, provisioning, no vendor-lock-in, superior hardware with regular COTS (Common Off-The-Shelf) parts and Open Source solutions since 1999.
For further information, please visit https://eracks.com
Contact:
eRacks Open Source Systems
Hayward, CA & Los Gatos, CA
Phone: (408)455-0010 (Sales)
Texts OK to: (408)455-0010
Fax: (631) 392-9842
Email: info@eracks.com