Jun 15 2016 - The eRacks/LGRAM Linux Premium Ultrabook Hits the Market with a Splash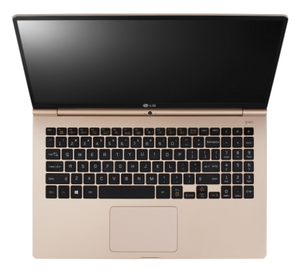 HAYWARD, CA - 06/15/2016 (FOR IMMEDIATE RELEASE) — The eRacks/LGRAM is an exquisite, sleek, and light Ultrabook that features a screen of 15.6 inches and weighs under a kilogram (2.2lbs). Thus, this Linux Laptop is the perfect choice for those looking for larger screen laptop that will be flexible, powerful, and extremely portable for carrying everywhere.
The eRacks/LGRAM has an IPS, FullHD (1920x1080) display, with the capacity to reproduce exceptional colors that are viewable from any angle – making this Linux Ultrabook a truly outstanding unit, with a vibrant display rivaling the best desktops, and weighing less than an Apple MacBook Air (Yet with a 2.3" larger screen!)
This sleek laptop measures 0.7 inches in its thickness is manufactured from magnesium alloy, making it both ultra-light, and sturdy enough to bear daily usage. The Linux Ultrabook has a 6th generation Intel i5 / i7core processor, and up to 16GB RAM and up to a 1TB SSD. It boots in seconds, and suspends / sleeps and wakes up even faster, the machine gets into action just after the screen is opened. The machine comes in a beautiful matte glass-beaded metal finish, in new gold.
The eRacks/LGRAM adopts a zero-compromise standing on the aspect of productivity. To ensure optimal functionality, the machine features a full keyboard including the numeric keypad, full directional keys, as well as function keys for volume, screen brightness, etc.
Weighing 25% less than the MacBook Air, while more powerful, it has a much faster CPU (quad-core i5 or i7 available), up to 4x as much RAM, up to 8x as much HD space, and upgradeable (the MacBook Air is not upgradeable), as well as featuring a 2.3" inches larger screen, this ultralight laptop is truly a treat to the eyes and absolutely a portable "powerhouse" for its users, and sets the bar for the next generation of laptop technology to beat.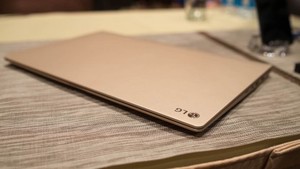 The basic features include a display of 15.6 inches, Full-HD native resolution of 1920 X 1080 specification and core i5/i7 Intel Ultrabook processor. The machine holds expandable memory capacity up to 16 GB and features 256 GB default SSD/HD, upgradeable up to 1TB or even higher (call for details). The machine includes Intel HD Graphics 520, an HD webcam, Hi-Fi audio from Cirrus Logic DA, the latest Wifi and BT 4.0 Bluetooth C.
This Linux Ultrabook comes pre-installed with Ubuntu or Mint with Cinnamon by default, but eRacks will install any Linux you prefer on it, and set up any desktop environment the user prefers, including KDE, Gnome, Mate, XFCE, LXDE, or others on request.
The eRacks/LGRAM can also be used as a powerful, lightweight musical Workstation or DAW (Digital Audio Workstation), with the installation of Ubuntustudio or other Linux DAW distributions, such as KXStudio, DreamStudio, AVLinux, or Planet CCRMA.
In addition to the open source Linux OS, the laptop comes with productivity suites and is packed with other open source software available, such as Libre Office (or Open Office), Firefox, Chrome, Remote Access, Audacity, Blender, VLC, Dropbox, Skype, Seafile, Telegram, and more, it truly is a "Batteries Included" system.
"The eRacks/LGRAM Linux Ultrabook is lighter, faster, thinner, faster, better than MacBook Air – And it comes preinstalled with Linux and all the available software you need! It's now our CTO's primary laptop", stated the company spokesperson.