April 25, 2012 - Custom NAS50 File Server from eRacks Makes Petabyte-scale Data Storage Accessible for Every Business
Press Release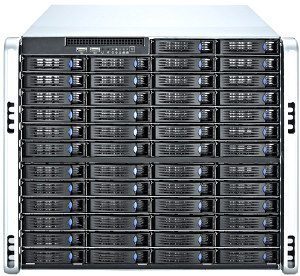 Custom NAS50 File Server from eRacks Makes Petabyte-scale Data Storage Accessible for Every Business
The custom NAS50 network attached file server from eRacks Open Source Systems is at the forefront of network server design utilizing the new 4TB hard drives from Western Digital, making petabyte-scale data storage within two rack cabinets a reality.
Orange, CA, April 25, 2012 -- eRacks Open Source Systems has integrated the latest 4TB Western Digital drives into their NAS50 network attached storage file server. Users can now store up to 1.6 petabytes in a customized two rack system. The NAS50 will enable users to consolidate vast amounts of data, improve network reliability, save office space, reduce energy consumption and strengthen network security. The recent Mac Flashback virus has proved that any system is vulnerable to attack. The NAS50 is also fully customizable online with the full range of the latest network security features. Business and home users craving larger capacities for storage can also create customized hardware configurations online.
Max Haskvitz, general manager of eRacks says, "We're especially excited to offer our customers the upgraded NAS50. The ability to house 200TB in a single unit is extremely efficient for data warehouses and other storage-needy applications." The NAS50 is already being used by NASA and several major national networks and engineers for data retention, cloud storage, storing uncompressed media files, and creating multiple backups.
In addition to 200TB of storage, the eRacks/NAS50 holds a maximum of two eight-core Intel Xeon or four AMD Opteron CPUs for a total of 16 Intel cores or 64 AMD cores. Memory can be upgraded up to 768GB DDR3 and multiple RAID arrays can be configured. eRacks also offers 4GbE and 10GbE network interfaces for the eRacks/NAS50 server. An external SAS option enables multiple NAS50 servers or other NAS units together for peta-scale storage.
Most of eRacks clients prefer customized hardware and software configurations, and some even opt to have eRacks configure a set of systems, staging it in-house before delivery.
For more information visit the eRacks website: eRacks.com or call (714) 532-5322. eRacks offers educational and bulk discounts.