March 15, 2012 - eRacks adds blade servers to its rackmount server line.
Press Release
eRacks adds blade servers to its rackmount server line.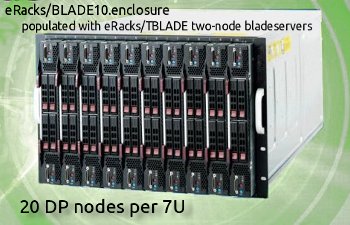 March 15, 2012 Orange, CA
PRWEB
,
Summary: eRacks Open Source Systems announces expansion of its rackmount server lineup with customized blade server models. Several configurations are available including a twin blade system capable of 20 nodes per 7U of rackmount height.
eRacks announces a new category of blade server configurations in its rackmount server lineup. Blade server technology is an efficient way to scale server capacity while limiting space and power needs.
Blades are primarily suitable for high density server farms, where efficiency and cost-to-operate are significant. Each of eRacks blade servers has its own memory, CPUs, GPUs, hard drives, and network connections, and can be hot-swapped. Several blade servers reside together in one enclosure which provides the power and cooling for the set. An eRacks fully-populated blade enclosure can house between 10 and 14 blades, including twin-node blades. Populated with the eRacks/TBLADE twin-node blade server, a density of 20 dual-processor nodes in a 7U rackmount height is reached.
Advantages of blade rackmounts over standard rackmount servers:
1 - Reliability - Redundant servers, power supplies, and RAID drives, are all designed with hotswap capability. One server or drive or power supply can be removed without bringing down the others.
2 - Space efficiency - Server density can more than twice that of traditional 1U rackmount servers.
3 - Cable reduction - The BLADE10 and BLADE14 enclosures provide network, power, and KVM cabling reduction. Keeping cabling simpler reduces management time and errors.
4 - Lower power consumption and operating costs - By eliminating the overhead of discrete 1U servers, power consumption and electricity costs are significantly decreased.
5 - Faster troubleshooting, without downtime - Power supplies, drives, blades, all can be hot-swapped.
6 - Disaster management - Redundant power modules in each enclosure are designed to provide a failover, maintaining uptime.
7 - Remote management - eRacks blades servers have integrated IPMI2.0 (Intelligent Platform Management Interface) and KVM (Kernel-based Virtual Machine).
8 - Scalability - Once a blade server chassis has been installed, additional servers can be added by simply sliding them into the bays while the system is running.
Combining blade technology with software virtualization allows incredible advantages in modularization, which in turn, can make it simpler to scale. Virtualization allows each application to reside in its own environment, including the operating system and software best suited to its tasks. eRacks experts can also configure servers with the customer's choice of virtualization software or other software especially designed to scale, such as Apache Hadoop.
An optimal infrastructure that maximizes density, plus has ability to scale, will also provide a smaller footprint resulting in environmental benefits and cost savings. eRacks Blade Enclosures' power supplies have 94% power efficiency with a highly effective cooling subsystem design. Each blade also has integrated IPMI2.0 with remote KVM, capable of full remote management, for peace of mind. Network options include Infiniband DDR/QDR and 10G Ethernet, which are available on every blade model. While most resellers offer only a general blade model, eRacks offers a variety of configurations for differing applications.
eRacks Blade models include:
- eRacks/XBLADE, an Intel Xeon-based, Quad-core / Six-core, Single / Dual CPU server supporting up to six drives.
- eRacks/ABLADE, an AMD Opteron-based Single, Dual, or Quad-CPU blade server. Density can be up to 640 cores per 7U.
- eRacks/YBLADE, a Xeon blade for more processor-intensive applications that can scale to a density of 14 servers per 7U.
- eRacks/RENDERBLADE, which holds two graphic cards per blade.
- eRacks/TBLADE, a twin-node blade server capable of a 20-node, 2.56TB memory per 7U.
Max Haskvitz, eRacks Operations Manager says, "eRacks prides itself on offering standard blade servers that are interoperable, rather than resorting to the proprietary lock-in practices of other blade vendors such as HP and Dell. We also strive to demystify blade technology, and assist our customers in planning their infrastructure."
Most of eRacks clients prefer customized hardware and software configurations, and some even opt to have eRacks configure a set of systems, staging it in-house before delivery. For more information visit the eRacks website: http://www.eracks.com or call (714) 532-5322. eRacks offers educational and bulk discounts.
To learn more about the eRacks Blade Technology visit: http://eRacks.com/products/Blade%20Servers