Enterprise Servers
Enterprise and virtualization servers allow consolidation of applications in separate environments. Save power, space, and admin time. These systems are designed specifically for running multiple virtual machines and other enterprise-level applications. Custom configurations are also possible. Contact eRacks for more information.
Special configuration requests are possible! Simply email or call us to discuss your needs.
---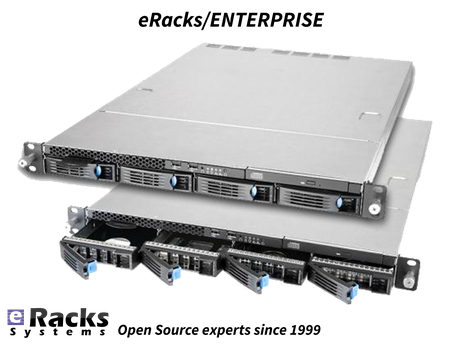 eRacks/ENTERPRISE
eRacks/ENTERPRISE is the best entry-level Enterprise server in 1U Rackmount Chassis with up to 4x 3.5-inch SATA3 (16 GB/s) Hot-Swap Drive Bays. The system supports up to 1 TB ECC/Reg Memory in 8 DIMM slots and dual Intel Xeon E5-2600 series v4/v3 Processors. eRacks/ENTERPRISE servers required considerably reduce power with 300w Power Supply for 1U rackmount chassis. The new eRacks/ENTERPRISE servers thus use significantly less power and are therefore a truly "Green solution".
Starting at

$2125
eRacks/SOLO
The eRacks/SOLO is an Intel® Xeon® 5030-series in a 2U system with three hot-swap SATA hard drives. This rackmount server supports both 32- and 64-bit Operating Systems. eRacks can also install and configure your virtualization setup. Contact us or simply write in your request in the Notes field of your order. For orders with over 32GB memory, please call for special pricing. Other chassis/motherboard/processor configurations are possible. Email or call eRacks for a custom quote.
Starting at

$2495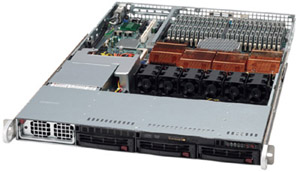 eRacks/X4X4
The eRacks/X4X4 is an Intel® Xeon® 7300-series (Tigerton 4-Core)with Four CPUs in a 1U system. It has three hot-swap SATA II hard drives and supports both 32- and 64-bit Operating Systems. The Quad-Core Intel Xeon processor enables a dramatic improvement over the Dual-Core, and is the latest and greatest in a virtualization server.
Starting at

$9295