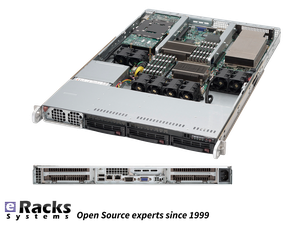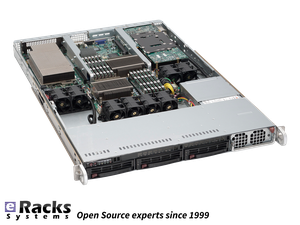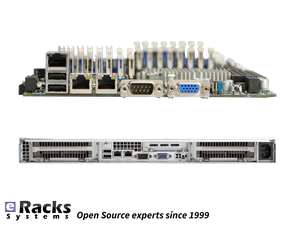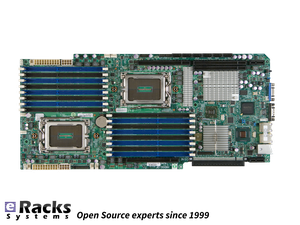 eRacks/OPTERNATOR32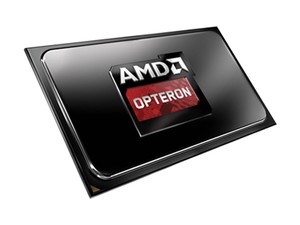 The eRacks/OPTERNATOR32 is an AMD® Opteron™ 6300-series dual processor system in a 1U chassis and it supports up to 32 core processor in dual sockets with up to 512GB DDR3 Registered ECC 1600/1333/1066 SDRAM in 16 DIMM sockets. The starter config is with 8 (2 x 4)-core AMD® Opteron™ 6320 2.8GHz Processors along with 2X 4GB DDR3 ECC Registered RAM and 500GB 7200 RPM Removable Hot-swap SATA3 Hard Drive.
The eRacks/OPTERNATOR32 series systems are well-suited for key applications including virtualization, databases, and HPC installations. It has three hot-swap SATA3 hard drives and supports both 32- and 64-bit Operating Systems. AMD's 6300 series processor design of two 346-mm˛ dies totaling 1.808 billion transistors in a single CPU package. AMD has also implemented deeper sleep states, support for low voltage memory modules, and improved monitoring systems to keep power usage in check.
Note: For orders with over 64 GB memory, use the Quote request button, eMail us, use the contact form, call us, or simply write in your request in the 'Notes' field when you place your order.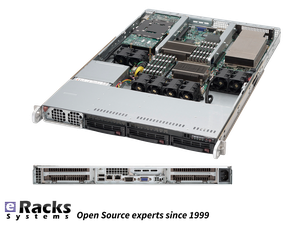 The standard hardware configuration includes:
1U Rackmount Chassis, 28.2 in depth (716mm), Weight 38 lbs. (17.2 kg).
1400W high-efficiency power supply.
Dual Socket motherboard for AMD® Opteron™ 6000 series processors.
2 x 4-core AMD® Opteron™ 6320 2.8GHz Processors.
2 X 4 GB DDR3 ECC Registered RAM.
1 X 500GB 7200rpm Removable Hot-swap SATA3 Hard Drives.
Slim Optical drive.
Dual-port GbE, 4x USB 2.0, 1 x IPMI 2.0. 6x SATA2.0 (3Gb/s) Ports, 2 RJ45 LAN ports, 4x USB 2.0 ports, 1x VGA port, 1x Fast UART 16550 serial port.
2 x full-length PCI-e Gen 2.0 x 16 slots; 1 x low-profile PCI-e x 8 Gen 2.0 in x 16 slots.
---
Features & Specifications
1400W High-efficiency Power Supply.
Dual AMD® Opteron™ 6000 series processors (Socket G34) 16/12/8/4-Core ready with HT3.0 Link support.
Up to 512GB DDR3 1600MHz ECC Registered DIMM; 16x DIMM sockets.
3x 3.5" Hot-swap SATA Drive Bays.
2x double-width full-height/length GPU cards supported; (GPU cards not included).
Expansion slot: 3 PCI-E 2.0 x16, 2 PCI-E 2.0 x8 (in x16 slots).
6x SATA2 3.0 Gbps Ports via AMD SP5100 controller, RAID 0, 1, 10.
8x Fans with Speed Control.
Dual-port GbE LAN Controller, 4x USB 2.0 ports, 1x dedicated LAN for system management (IPMI2.0).
2x full-height full-length PCI-e Gen 2.0 x16 slots; 1x low-profile PCI-e x8 Gen 2.0 in x16 slot (accommodates AOCs up to 6" in length).
---
Configure eRacks/OPTERNATOR32
Choose the desired options and click "Add to Cart". You may also request a quote, please add additional requests and information in the "Notes" field. Your quote request will be sent to your profile's eMail if you are logged in, otherwise enter the email address below (required only if not logged in).
Current Configuration
Base Price: $ 3995.00
As Configured: $ 3995.00
Configuration Summary:
Default Configuration