Network Attached Storage (NAS) Servers
As technology advances, data integrity is by far the far most important and absolute necessity from individual to large enterprise level companies. And with good reason, for easy access, availability and data security, eRacks/NAS servers are growing in popularity. NAS servers allow all authorized users to access to company data 24×7, and eRacks/NAS servers help provide tremendous competitive advantages, increase levels of customer service, and extend the collaborative reach across any project, at any company.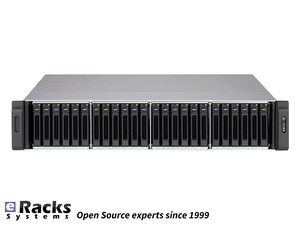 A NAS, or Network Attached Storage device, is attached to a network, and stores data (by definition!), and thereby makes the data accessible to authorized users. The connected network could be very large - small business, home, corporate or campus-wide, or the entire Internet. No matter how small or large the network is, the NAS server is connected to a network that allows storage and retrieval of data from a central location for authorized network users and varied clients, and all types of Operating systems.
NAS servers are flexible, and can scale out as well as scale up, meaning that as you need additional storage, you can add to what you have, instead of just getting a bigger one.
A NAS sever can be like having a faster, local private cloud in the office, or, installed at your colo (or hosted at ours!), can be the basis for your private cloud itself. It's faster, less expensive and provides all the benefits of a public cloud but on your site or at your disposal, giving you complete control.
The key features of NAS Servers are,
Simple to operate.
No dedicated IT professional required to maintain.
Lower cost.
Easy data backup and it's always accessible when you need it.
Good at centralizing data storage in a safe, reliable way.
Compatible with all OSes like, Unix/Linux, MacOS, Windows and Android.
NAS servers typically cost less than normal servers of the same storage level. This cost savings allows for more money in the budget to spend on other initiatives which could greatly benefit your small business and enterprises. Not only does the cost savings include the initial purchase, but NAS devices are typically far cheaper to maintain than other servers.
The NAS includes a fully-functional operating system, including access to additional applications. This allows you to download a variety of applications to extend the functionality of your NAS device including office security surveillance, backup services, disaster recovery backups, company knowledge base, etc.
Most NAS devices have their own Cloud service, which allows you to remotely access or even synchronize your data on devices with an internet connection. You can also share your data with others through the Cloud without the 3rd party needing to have any specific software on their end.
There are numerous features and benefits of eRacks/NAS servers for home, small businesses and large enterprises:
Cheap and Affordable: eRacks/NAS Servers are cheap and affordable for all type of users.
Increased Business Efficiency: Uses only required hardware for use environment thus consume minimum power and save Cost and increase business efficiency.
Heavy Data Transfer: Built for multi-user environments and with correct drives providing high workload rates for heavy data transfer operations.
Data Security: Protect data from storage drive and hardware failure and provide high level data security with ZFS, NFS, GlusterFS, LizardFS, Ceph, MooseFS, GFS, etc for distributed file systems.
Cloud Infrastructure: eRacks' own eVirt KVM-based cloud (Ceph available), OpenStack, CloudStack, Eucalyptus, or other Cloud infrastructure for your own private cloud.
Varity of Use Environments: FreeNAS, OpenNAS, OpenFiler, OpenMedaVault, Samba, ATalk, NFS, rsync, and others for local on-premise LAN use or NAS.
DropBox-Equivalent Functionality: NextCloud, Seafile or OwnCloud for your own private DropBox-equivalent functionality supported.
Cross-Platform Support: eRacks offers a complete cross-platform solution - private / hybrid cloud server, file server, and total / SDS storage.
High Scalability: As with 'Start low and grow big as the business grows' method, eRacks/NAS Servers provides high scalability with up to 1,152 TB or 1.125 PB of raw storage with 16TB of 3.5-inch Hard Drives and up to 3TB ECC/Reg. memory.
In case of individual, home use, small business or enterprise class requirement, eRacks/NAS servers are designed to provide high performances while use the lowest power and maximize the benefit. eRacks also offers system architecture and design services, including network design and private cloud architectures. If you need specific configuration or customized NAS server, just write the requirements on the "Get a Quote" field, email us or contact us as you see fit.
We got you covered.
---